Trip Blogs: Bhutan, Land of the Thunder Dragon 2014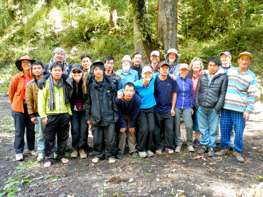 Date: Thursday, October 9th
Location: Thimpu! End of the trail.
Always sad and exciting to end an intense journey like this. We had the opportunity to finish at an ancient monastery and spin the 108 prayer wheels
<<< View Post >>>
---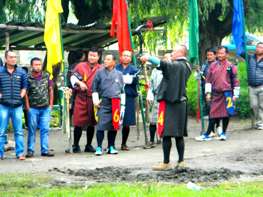 Date: Wednesday, October 8
Location: 5 miles from the end of the trail in Thimpu River Valley.
10,000 feet and lots of oxygen.

Wow! Hard to believe this is our last campsite. And what a trip it has been. We walked by the Thimpu Rive
<<< View Post >>>
---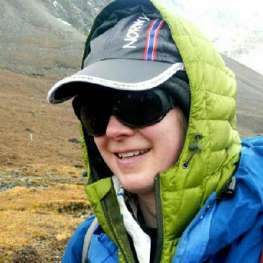 Date: Tuesday, October 6
Location: Barshong, in the Thimpu River Valley.
12,000 feet. 5 hours hiking.

Everyone is recovering from dealing with altitude and going over the pass. Marcia had a tough 3 days but is fi
<<< View Post >>>
---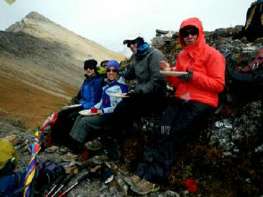 Date: Monday October 6
Location: Elalala Pass
Here is an audio post from the gang. Download or listen
<<< View Post >>>
---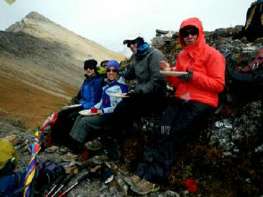 Date: Monday October 6
Location: Elalala Pass
Close to 16,000 feet. Sun, wind, clouds, snow.

We made it! Wow, slow, slow, slow. Hard to believe how slow you can walk. Sun came ou
<<< View Post >>>
---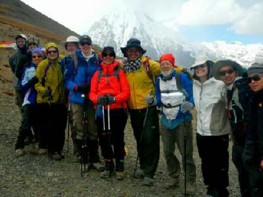 Date: Sunday, October 5
Location: Crossed Nyaley pass at 15,500 feet
Here is an audio post from the gang. Download or listen
<<< View Post >>>
---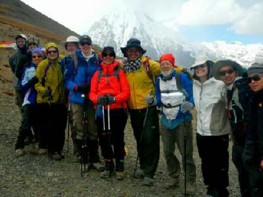 Date: Sunday, October 5
Location: Crossed Nyaley pass at 15,500 feet
Sunny start cloudy finish. Some hail after pass. Huddled under rain fly to bring you this broadcast from 15,000. A bit of hail hitting.
<<< View Post >>>
---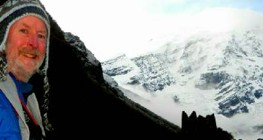 Date: Saturday, October 4
Location: Audio Post
Here is an audio post from the gang. Download or listen
<<< View Post >>>
---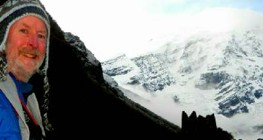 Date: Saturday, October 4, 3:30 PM.
Location: Jomalahari Base Camp again
Last night was about 22 degrees. Today was about 65 and really lovely. Yesterday it snowed here but that is all melted now. Hike was 4 hours.

<<< View Post >>>
---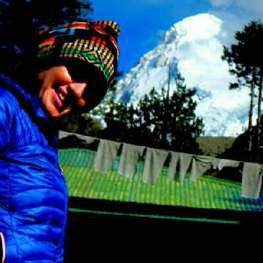 Date: Friday, October 3
Location: 13,200 feet. Jomalahari Base Camp
5 hours walking. Windy, 50 degrees daytime.

Sitting here beneath a bunch of yaks writing this. All are good. A few with some queas
<<< View Post >>>
---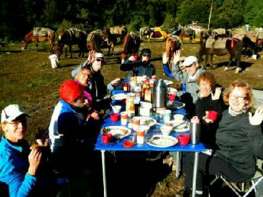 Date: Thursday, October 2
Location: If we told you the name of this place you would not know it
22 km day, up to 11,500 feet. 11 hours of hiking. Gorgeous sun. Day time 65 nighttime. 40 degrees.

As you can tell from the stats
<<< View Post >>>
---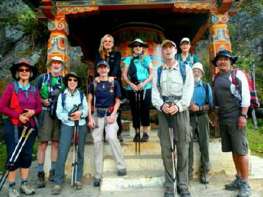 Date: Wednesday, October 1, 1 pm
Location: On the trail
4 hour walk today from 8300 to just under 10,000 feet

Yes, after all this travel we begin to trek today. Nice walk on local farm road
<<< View Post >>>
---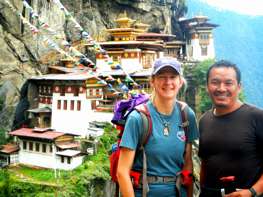 Date: Tuesday, September 30
Location: Paro, Bhutan and Takstang Monastery
That picture probably says more then we can in here. That is Karla and Jaam, our new Bhutanese friend and guide. We are at 10,000 feet after a 2 plu
<<< View Post >>>
---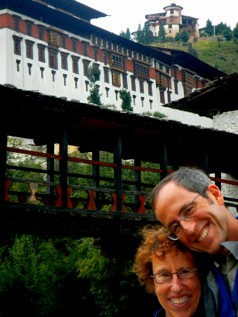 Date: Monday, 5 pm, September 29
Location: Paro, Bhutan
Wow! We are here! Amazing! Great flight in. Nice and cool here which a change from sweaty Bangkok. Dan is due in here in the morning, a day late
<<< View Post >>>
---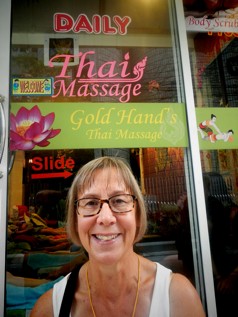 Date: Sunday, September 28
Location: Bangkok, Thailand
Saturday was a blast. We went to a huge 68 acre market after learning to navigate on the trains. Then we visited the Jim Thomson house. Jim disap
<<< View Post >>>
---