Viewing Post for: Bhutan, Land of the Thunder Dragon 2014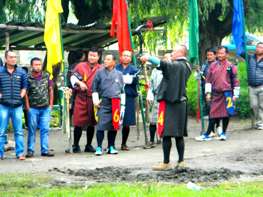 Date: Wednesday, October 8
Location: 5 miles from the end of the trail in Thimpu River Valley.
10,000 feet and lots of oxygen.

Wow! Hard to believe this is our last campsite. And what a trip it has been. We walked by the Thimpu River all day. Last night it snowed and rained hard but by morning the sky had cleared as usual. Horses wander the campsite at night and create mischief. Like taking packs out of tents and knocking down the toilet tent last night. Sometimes they are chewing the grass right next to your head. We have 14 horses who carry our gear over very steep trails.

The kitchen guys spend hours cutting food and cooking. Because of the altitude they have to use a pressure cooker. All three meals are cooked and served hot. Lunch is carried in a warmer on the horse and served that way.

During the day we now and then pass a yak herder and have to walk through up to two hundred yaks with large scary horns. Occasionally a local will pass us wearing their gho or cloak heading to some hidden village only accessible by a couple day walk.

This is the world here. Soon we transition back into the other world.
---
Messages for this post
For: rick
We can't believe you are blaming horses for the night time "mischief". We all know you better than that! Our world here is the same. Maybe you should all reconsider the return flight...... Sweet dreams, good night, and God bless you.
---
lisa and Lori - 10/8/2014
For: Barb
Did I tell you John Mansour was here the other day on the deck? Today it was Dave and Val, first the deck, then a wok dinner. Good time. You must be in a very peaceful place up there on the mountain. Love, Les
---
Les - 10/8/2014
No more comments are allowed at this time.