Trip Blogs: Antarctic Adventure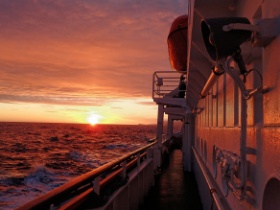 Date: Tuesday, January 17, 2017
Location: Punta Arenas again
Crazy. Back in South America. Seems so quick now. Weather settled do
<<< View Post >>>
---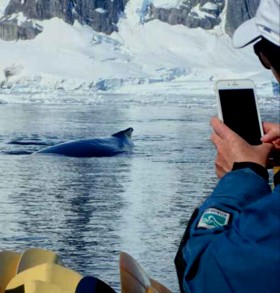 Date: Monday, January 16, 2017
Location: Deception Island
Rick again. I think Jill is up in her room.

We woke up in some rough waves. Currently hunkered down in the protection of the harbor of Decep
<<< View Post >>>
---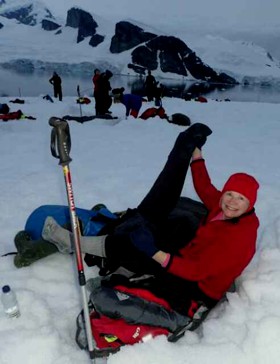 Date: Sunday, January 15, 2017
Location: Paradise Harbour and Brown Station
Rick here. I have to start since Jill did not attend the campout last night.

A number of us were transported by boat to a tiny snow covered
<<< View Post >>>
---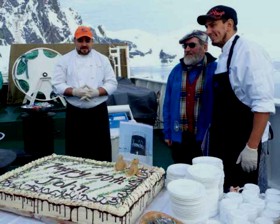 Date: Saturday, January 14, 2017
Location: Le maire Channel, Weinke Island
Jill here: Don't worry, Dad, you'll get the full length blog when I get back to civilization. Rick told me to be brief on these posts.

Yesterd
<<< View Post >>>
---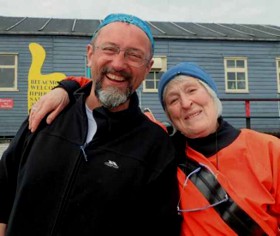 Date: Friday, the 13th of January! (But a lucky day for us)
Location: Vernadasky Station, Argentine Islands
Jill here: This morning's excursion was to Akademik Vernadasky Station, a Ukrainian research base in the Argentine Islands. We were able to tour mos
<<< View Post >>>
---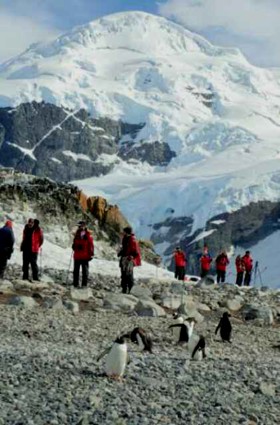 Date: Thursday, January 12, 2017
Location: Currently steaming south of the Antarctic Circle.
Heading toward Detaille Island.

Jill here: We finally sailed past 66 degrees south and we are officially in the Antarctic circle. We celebr
<<< View Post >>>
---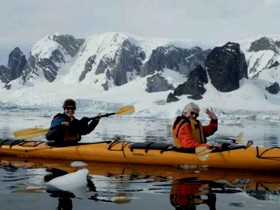 Date: Wednesday, January 11, 2017
Location: Wilhelmena Bay
Jill here. Today's theme is whales. In fact, while we're currently in Wilhelmena Bay, the crew calls it "Whalehelmena Bay." The Humpback whale sigh
<<< View Post >>>
---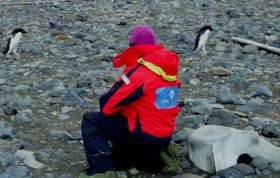 Date: Tuesday, January 10, 2017
Location: Penguin Island, Off shore of King George Island.
Jill here: we were all disappointed last night not to make a landing at the historic Elephant Island last night, but we had a great sighting of it on
<<< View Post >>>
---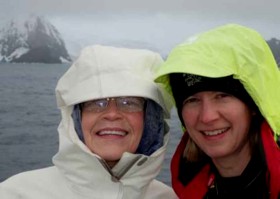 Date: Monday, January, 9, 2017
Location: Elephant Island - Point Wild
Jill here: I've hijacked Rick's tablet for today's post.

We just crossed the 60th parallel and are officially in Antarctica. We're on our our
<<< View Post >>>
---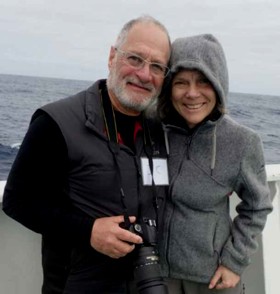 Date: Sunday, January 8, 2017
Location: Somewhere near Antarica
Traveling 13.5 knots per hour. Great news. We awoke to calmer seas. The ship still rocking and rolling a bit but most have recovered. One or two l
<<< View Post >>>
---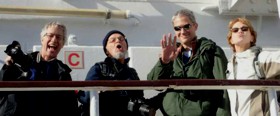 Date: Saturday, January 7, 2017
Location: Falklands Islands, North of the Drake Passage
Heading through night through the passage. Wow! We are on our way!

We flew to the beautiful Falklands Islands and bused 35 miles to the m
<<< View Post >>>
---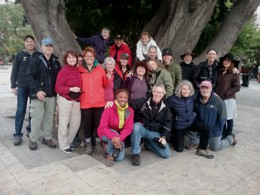 Date: January 6th, 2017
Location: Punta Arenas, Chile
Yes! We are all here!

Some of us just barely made the connections due to delays but everyone made them.

We are in Patagonia. A
<<< View Post >>>
---