Viewing Post for: Antarctic Adventure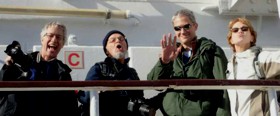 Date: Saturday, January 7, 2017
Location: Falklands Islands, North of the Drake Passage
Heading through night through the passage. Wow! We are on our way!

We flew to the beautiful Falklands Islands and bused 35 miles to the main town of Stanley. These unique islands, hundreds of miles from land are windswept, desolate and beautiful. 3000 people make their homes on mainly 2 of the 700 islands.

The ship is perfect. There are 7 levels. The highest ones are open decks. We cast off about 7 pm. After a very short passage with penguins we hit open ocean. The ship is already rolling and rocking. We all are taking some type of medication.

Let you know tomorrow how it works. Excitement level is high.

We look forward to sharing our adventures.
---
Messages for this post
For: Jill Mazur
Found you! Hope you're having a great time and not too seasick.
---
Julie - 1/9/2017
For: Kathy K.
Away, away, away you go! Here's hoping everyone's meds kick in quickly and keep sickness at bay. Can't wait to see more of your adventures! xoxo
---
Jenny - 1/9/2017
For: Ellen and JC
GOOD LUCK WITH THE ROCKING AND ROLLING!
---
Laura - 1/9/2017
For: Karla
I love seeing your adventures. Who knows maybe you can make your own penguin movie. Thanks for bringing geography to life for us.
---
Misti - 1/8/2017
For: Susan Holmes
Your on your way..have a wonderful time..thinking of you..
---
Jeanne - 1/8/2017
For: George Parker
Have the time of your life, travel mentor and uncle!! Love, Jenny
---
Jenny - 1/8/2017
For: Joe Hallinan
Nice to see you're on the way! Say hi to the Penguins for us and we can't wait to see pictures and hear the stories. We will think about you, have a great time!
---
The Bay Village Grigoli's - 1/8/2017
For: George Parker
Hi Dad! Hope you're having a great time thus far! Love you!
---
Laura - 1/8/2017
For: Kathy
Are you turning into a penguin? I just wanted to add you to one of my mindless conversations that I usually have with Paula....or my dog, Roscoe!
---
Mike - 1/8/2017
For: Kathy
I cannot imagine what you day is like, how very exciting. I imagine the ship was a riot, maybe not the best kind with the medication need, but what a great experience.
---
Paula - 1/8/2017
For: Lise Crapella
Hi Mom, I hope that you managed to get some sleep despite the waves. We are so excited for you and the rest of the group to see what lays ahead. Everyone is sleeping in this morning and the house is very quiet. We had a little snow last night and the temps have been in the low 20s. The chickens are refusing to come out and we have all been avoiding spending too much time outside. We are wimps! Anyway, take lots of pictures, we are looking forward to seeing them when you get back. Love, Bianca
---
Bianca - 1/8/2017
For: Kathy Kennedy
Your travels sound terrific and I'm having a geography lesson at the same time! 7 is a lucky number, so hopefully all will enjoy the many layers of the ship and your rocking and a rolling will be more from the Rolling Stones than the heavy seas.
---
Michele - 1/8/2017
For: Jennifer Gold
Great that you got to see some of the Falklands in getting to the ship, which sounds lovely. Now the real adventures begin. Hope the waters weren't too rough and that you got some sleep. Looking forward to hearing all about it - take many photographs and I'm sure there will be a blog post or two that you could write. Have the most amazing time, and be safe! Will be thinking of you.
---
Jack - 1/8/2017
No more comments are allowed at this time.