Viewing Post for: Antarctic Adventure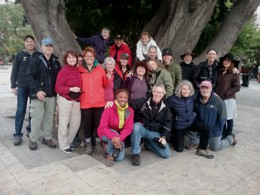 Date: January 6th, 2017
Location: Punta Arenas, Chile
Yes! We are all here!

Some of us just barely made the connections due to delays but everyone made them.

We are in Patagonia. A vast, damp, beautiful part of the world. The water was a deep blue and calm as we drove from the airport into town.

Despite being tired from the overnight flight we explored town. Found a great restaurant to sample the seafood and other dishes. Some of us had scallops other king crab.

All are very excited for our flight to the Falklands tomorrow to meet the ship.
---
Messages for this post
For: Jill Mazur
We're really enjoying the blog on your trip. Are you really the lone writing it? It seems sort of generic. Love M&D
---
Morrie Mazur - 1/12/2017
For: Jennifer
This is Lisa and Lori: we are at the B & B in Buffalo the Elmwood village Inn sitting here with the owner Karen. She says hi to Jennifer. Rick she wants to go to Spain with you. Love you guys!
---
Karen powell - 1/11/2017
For: Susan Holmes
Glad your group managed to stay together. Thinking of you and hope all is well.Your daughter will always remember where you were on her birthday! Love, Marilyn
---
Marilyn - 1/9/2017
For: Kathy
You look great, cold and snuggly in warm clothes. We actually ahd a freeze here, just no snow...that's OK since you have lots, love, Paula, Mike, Roscoe
---
peela - 1/8/2017
For: Lise
Lise, Garret, Charlie and I are waiting on tenterhooks for your touchdown in Antarctica! Garret was talking about "the bottom of the world," and Charlie said, "Garret, YOU are the bottom of the world!" Hoping that you're already taking a bunch of pictures, and we'll be watching the live updates here to see everything you're up to along the way! Love from all the Tanis boys! (Bianca is asleep!)
---
The Tanis Boys - 1/8/2017
For: Peggy
I hope you and Miischelle are having a blast. Don't forget . . . Take lots of videos too.
---
Andrea - 1/7/2017
For: Marcia
Thinking of all of you. Wondering how nature and life are treat ing you!!
---
Kath - 1/7/2017
For: KARLA
GLAD YOU MADE IT OK. ALWAYS WONDER AIRLINE SCHEDULES AND DELAYS, WE FINALLY GOT SOME COLD SLIGHTLY COLD WEATHER FOR US. FIRST FREEZE AT 21 F. FELT GOOD. WILL FOLLOW ON WEB. HOPE YOU ALL HAVE GREAT TIME. TAKE CARE. DAD
---
DAD an MOM - 1/7/2017
For: Jennifer G
I think its just as cold in Buffalo as it is in Antarctica. Hope you're having an enriching and beautiful life experience. Please fill us in when you get back. Namaste
---
Brian & Antanien - 1/7/2017
For: lise
Yay! you made it. Can't wait to hear your reactions to the incredible wilderness that awaits you.
---
melissa - 1/7/2017
For: Jenifer gold
So excited for you and your traveling comrades be safe and enjoy. Must be intoxicatingly new. Jvv
---
Judith - 1/7/2017
For: Kathy K
Dan, Michele & Sam are enjoying your trip as we are warm and cozy having Saturday morning breakfast in bed. Stay warm and have a great time !
---
The Potters - 1/7/2017
For: Susan Holmes
Hope your having fun, it's summer down there did you remember your sun screen and bikini? I heard they have a new outlet mall if it gets too hot for you, it's a good place to cool off. Enjoy Joe
---
Joe - 1/7/2017
For: susan Holmes
Hi Susan!! Although it looks like a fabulous trip, I'd never do it. I'd be in WARM climates in my bathing suit by the pool or on the beach. Be safe, have a blast, and can't wait to hear about it. You go, girlfriend!! Jo Lynn xoxooxo
---
Jo Lynn - 1/7/2017
For: Susan Holmes
Hope all is well, have a great time and let us know how its going???
---
Sue Bertonica - 1/6/2017
For: Joe Hallinan
All the best from Rochester. I'm green green green with envy! Have a great time.
---
Tom Jones - 1/6/2017
For: Peggy
I've got your messages and I'll follow up your trip via the blog. I'm wondering if you'll walk the same way when you'll be back home. Seeing all those penguins "walking" might be a bad influence...be careful :-) Have a great time and lots of fun.
---
Doru - 1/6/2017
For: Jennifer G
Drink it all in and come home to tell the stories for your Buffalo Gals! xo Mary Lou, Joy and Xena Warrior Princess
---
Mary Lou - 1/6/2017
For: Kathy
He misses you and hopes you will send him some fresh fish!
---
Fred - 1/6/2017
For: Jennifer
Hope you are having an amazing time... Would so love to visit Patagonia one day. FYI: my brother Rick holds the record for the most tours to the Falkland Islands during the Falkland war!! Also, our family piano, the one I practiced on as a child, was airlifted to the Falklands for the entertainment of the troops and may still be on the island. Enjoy and have fun!!
---
Patti - 1/6/2017
For: Lise
Hi Mom, I'm on the phone with dad right now and he sends his love. We are all thinking about you and excited to hear about your adventures. I hope that you were able to figure out the camera during your long hours on the plane...you will get the hang of it once you start using it. Love you! Bianca
---
Bianca - 1/6/2017
For: Jennifer
Jennifer, So glad you made it there safely. Enjoy your travels - what an exciting trip. Will be thinking about you and following your adventures through is journal. Que lo pases muy bien en Chile. 8,000 miles away, but yet so close. "And one by one the nights between our separated cities are joined to the night that unites us. Here we are at last face to face, we have met, we have lost nothing." - Pablo Neruda (Ode and Burgeonings) Un abrazo fuerte y muchos besos. Jack xox
---
Jack - 1/6/2017
No more comments are allowed at this time.