Viewing Post for: Antarctic Adventure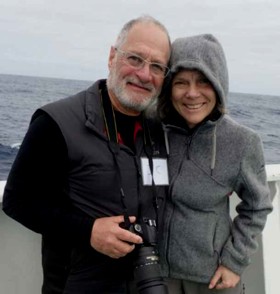 Date: Sunday, January 8, 2017
Location: Somewhere near Antarica
Traveling 13.5 knots per hour. Great news. We awoke to calmer seas. The ship still rocking and rolling a bit but most have recovered. One or two left lunch early to lay down though.

Today is a day of presentations on birds and history. Also we are doing our safety briefings for kayaking and going ashore. My favorite presentation was by John, a retired British Antarctic Survey member. In the late 60's he sailed here for a two year stint as base camp manager at a atmospheric station.

Lots of time outside looking for albatross and other sea birds that only a few lucky people will ever see. The photo people are working on the perfect bird in flight pic. The rest of trying to capture the feeling of this grand open space here.

Food is fantastic and fresh. We are along ways from the explorers of 100 years ago.
---
Messages for this post
For: Kathy
I missed this post yesterday,Mike is a bird watcher since his teen years, always hanging out with the older folks, this is a dream to be there in the wild.....thanks for sharing! Paula
---
Paula - 1/10/2017
For: susan Holmes
I hope you weren't some of the one's who have had to lay down..bet you could go for a fresca!!
---
Jeanne - 1/9/2017
For: Ellen and JC
What a cute couple!
---
Laura - 1/9/2017
For: Jennifer Gold
Hope the sea is calmer still, and everybody aboard is feeling better. Keep your eyes peeled and camera ready for anything exciting and unexpected. What an opportunity to see some incredible sights. Hope you are having an amazing time. Keep in touch. Xox
---
Jack - 1/9/2017
No more comments are allowed at this time.