Viewing Post for: Antarctic Adventure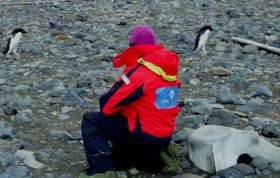 Date: Tuesday, January 10, 2017
Location: Penguin Island, Off shore of King George Island.
Jill here: we were all disappointed last night not to make a landing at the historic Elephant Island last night, but we had a great sighting of it on deck. We spent quite a while enjoying the views as well as a few snow flurries.

This morning we made our first landing at Penguin Island. Loading up the zodiacs was a bit challenging with the heavy swells, but we all made it to shore and back to the ship in one piece.

We saw Adelie and Chinstrap and even two Gentoo penguin, molting elephant and fur seals and even a whale carcass.
---
Messages for this post
For: Marcia
So, did you get me an Adelie or a Chinstrap?!?
---
karen - 1/13/2017
For: Kathy Kennedy
What an adventure!! I cannot wait to see you and hear all about it.d
---
Alice Cross - 1/11/2017
For: Lise
Hi Lise! Sounds like a fantastic trip so far. Hope your camera is taking great pics. I'm doing ok, still a little tired but feeling good. We'll have Vince over for dinner soon! Enjoy all the sights. Will check in with you again xxxx
---
Marilyn & Charlie - 1/11/2017
For: Lisa C
Hi, Hope you are having a great adventure. We miss you. But enjoy. God bless SICU( Goodsam)
---
SICU - 1/11/2017
For: Kathy
Thinking about you and your journey this week as we woke to 2 cold mornings in Boston at 0F and 5F, which may be warm days for you when you get to Antarctica. Had beautiful powder snow for a few days to enjoy, but now its January thaw. Hope you are enjoying the sea voyage and stops as you approach you destination. Heard on NPR about Antarctic Ice Sheet melting and thought about how transient and valued will be your views of the ice.
---
Brian - 1/11/2017
For: Jennifer
For: Jennifer This is Lisa and Lori: we are at the B & B in Buffalo the Elmwood village Inn sitting here with the owner Karen. She says hi to Jennifer. Rick she wants to go to Spain with you. Love you guys!
---
Karen powell - 1/11/2017
For: Ben Landrum
Hey Dad! I've talked to mom a few times and she has given me daily updates. Hope all is well, glad you aren't affected by the rough seas. Hope you get some great penguin shots to show us! Love you lots!!!! Celeste xoxoxo
---
Your favorite daughter - 1/11/2017
For: jennifer gold
wow you're really there! and hopefully NOT freezing your arse off completely lol - i kinda feel like im there with you as far as the cold and wind goes, much like that here at home but YOU get the fabulous and magnificent views to make it all worth the while. stay warm and i will be following your journey :)
---
jojo - 1/10/2017
For: Kathy
Well, I was so set on you being on the island I could not imagine it not happening. You are all brave souls to take this adventure and whatever it has to offer. Keep on keeping on. What lovely sightings of animals so unique to the greta south land. love, Paula
---
paula - 1/10/2017
For: Lise
Hi Mom! The boys are hoping that you took a picture of the whale carcass! All is well here. I watered your plants yesterday and dad is doing well. He is being checked on by many :) We miss you and look forward to these daily updates. Love you! Bianca
---
The Tanises - 1/10/2017
For: Lise
You are going to learn so much about penguins and seals and whales...oh my! Hope your are loving every second of your voyage.
---
melissa - 1/10/2017
For: Susan
Hi Mom! I hope you're having so much fun and getting a lot of pictures! I'm thinking about you everyday...you are greatly missed! Love, Megan
---
Megan - 1/10/2017
For: Jennifer Gold
Hi Jen. Disappointed for you all that you couldn't land at Elephant Island, but still fascinating that you got to witness it with your own eyes and I'm sure you appreciated the experience that you did have. I know you're that kind of person. And today you finally did land and set foot on Antarctica. How lucky! Sounds like you had a great time on Penguin Island and it was worth the effort of getting there. Will keep following your updates. Be safe. Have fun. Thinking of you, Jack xox
---
Jack - 1/10/2017
For: Lise C.
We hope you are having a GREAT time! Come back with many stories and pictures! Ann said to tell you she saw Vince at the gym and he was legitimately working out;) Miss you! Love your wound care team:)
---
Your Wound Team - 1/10/2017
No more comments are allowed at this time.