Viewing Post for: Antarctic Adventure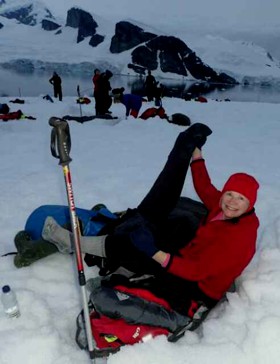 Date: Sunday, January 15, 2017
Location: Paradise Harbour and Brown Station
Rick here. I have to start since Jill did not attend the campout last night.

A number of us were transported by boat to a tiny snow covered island in a cove beneath huge hanging glaciers. We then dug a shallow trench, laid out a bivy sack and pad with a sleeping pad and laid down for the night. It was so still. Only the cracking of the glaciers and occasional blows of the whales to interrupt our slumber. How the sleep went depended upon the person.

Now back to Jill, our regular writer of late. Jill here.

I slept soundly in my bed last night. It was nice and warm. Just saying. This morning's excursion was at Paradise Harbour. We landed at Brown Station, which is currently inhabited by an Argentinian contingent of scientists. Those of us who made the landing officially stepped foot on the Antarctic continent. Some of us hiked to the top of the nearest hill for a spectacular view of the harbor and some magnificent icebergs.
---
Messages for this post
For: Jill
Thanks for the updates. I love reading your informative posts. I think every time you choose to sleep in a bed rather than camping out, it's the right decision.
---
Julie - 1/16/2017
For: Lise
Following your AMAZING trip!! Enjoy. Stay safe and warm!
---
Dianne D. - 1/16/2017
For: susan
Hi, Susan....hope you're enjoying the adventure of a lifetime although it can't compare to a winter in Buffalo--actually, pretty warm here comparatively. Had an adventure, well, misadventure here with my poor mom...wish I could run away to the other end of the world, some days. Take care and hope to see you soon.
---
Ken C - 1/16/2017
For: Terri and Dave
The camping sounds amazing. What an experience and we can't wait to hear more. Have a wonderful last couple of days. Terri I hope your suitcase is waiting for you! Love, Heidi and Bob
---
Heidi and Bob - 1/15/2017
For: Peggy
Hi Peggy! I was wondering if you'll camp on Antarctic "ground"… as per the picture above it looks like you did it… and you were having fun as well. That is great! You didn't only "stepped foot on the 7th Continent …you've camped as well! That is awesome! Congratulation! I believe you've hiked as well? ;-) I am following up daily your itinerary. Enjoy the rest of your journey and come back home safe and sound! Doru
---
Doru - 1/15/2017
For: Lise
Enjoy all the sights, sounds and smells of the Antarctic. I saw that you visited Whilemina Bay. Most awesome scenery in the world. Anxious to talk about your trip and share photos. If you go to Deception Island you must take the "plunge".
---
melissa - 1/15/2017
For: Lise
Hi Mom, Sounds like you are having an amazing adventure. We are taking bets as to whether or not you camped out. Sounds cold! We are all here at the house with dad, Chris and the kids and I and Victoria and Erik. Your plants are surviving and all is well. Dad is doing great. He is confirmed for February sixth for his knee. Dad says he misses you and is looking forwRd to you coming home. Time is going by fast! Lots of love from Sky Meadow Rd, Bianca
---
Bianca - 1/15/2017
For: Kathy
nice.I think I would actually visit a place like that, especially camping out over night. I would love the sounds. When we walk in the early mornings sometimes we hear flocks of birds in the trees, or in the bamboo. Early evenings we can hear the cicaidas or frogs...Tame compared to your grand adventure. Makes one think about winne the pooh!
---
paula - 1/15/2017
For: Lise
I can't believe you're actually there! We miss you lots and can't wait to hear about all of your adventures. Try to stay warm and we'll see you soon! Love, Erik
---
Erik - 1/15/2017
No more comments are allowed at this time.