Viewing Post for: Antarctic Adventure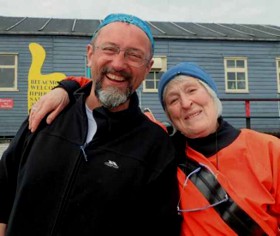 Date: Friday, the 13th of January! (But a lucky day for us)
Location: Vernadasky Station, Argentine Islands
Jill here: This morning's excursion was to Akademik Vernadasky Station, a Ukrainian research base in the Argentine Islands. We were able to tour most of the base, courtesy of our genial hosts. We learned a bit about how they live and work here, year-round. There is a ton of history here, not the least of which is that this base, when it was run by the English, discovered the hole in the ozone layer. The equipment is still running and gathering data.

The group also kayaked and cruised around the base and into some newly formed sea ice. Its fascinating to see how the sea water is freezing in thin, sheet like layers. The bay was filled with glowing, blue and white icebergs. The bird watching was out of this world as well!
---
Messages for this post
For: jen gold
so that glowing smile in this picture must mean that you're having a glorious time :) hope you're warm enough! what are you wearing on your feet? just wondering because almost nothing can keep mine warm enough, and mine aren't on the ice and snow all day and night long lol. your trip sounds amazing! can't wait to hear more about it - stay safe
---
jojo - 1/16/2017
For: KARLA
Sounds like group having good time. All well here. Our hot weather is back. TIME magazine and paper say large chunk ( 1,930 )square miles of ice shelf is about to break away and become iceberg. That would be a bonus if you could see that happen. Assuming you not hiking or camping in that area. Have good rest of trip. BTY - Kibo called and wanted to know where the heck you were.
---
Dad - 1/15/2017
For: Susan Holmes
What a wonderful adventure you are having. I hope you can e-mail your diary to family. We've had a "January thaw". The roads are clear and very little snow on the ground. Enjoy the rest of your trip. Love, Marilyn
---
Marilyn - 1/14/2017
For: Gee
Hi Gee, sorry the typo said Dee..We know who u are!! Hope to see you this summer at Susan's "bay"..there are a lot of creatures there too!! Be safe and enjoy the rest of your amazing trip..I'm sure you and Susan are having fun..
---
Jeanne and Kenzie - 1/14/2017
For: Jennifer
Loving seeing you in this photo! Sharing these posts with the kids and Sue. The adventures sound just amazing. Have a time of it. XO
---
Sara - 1/14/2017
For: Melanie And Ken Babineau
How fun to read the blog! Sounds like a great trip! I'm happy to be warm, but know you guys are having a ball! Pictures when you come home!love. P
---
Perri - 1/14/2017
For: Susan Holmes
I have been following your journey everyday, sounds like everyone is having a wonderful time! Hope you have been enjoying the kayaking and all the different creatures you see!! We will spend lots of time reviewing your trip. See you soon! Love Michael P.S. tell Gee I said hi!
---
Michael - 1/14/2017
For: Jennifer Gold
Thinking of you enjoying the awesomeness
---
judith - 1/14/2017
For: Susan Holmes
Hi Susan,s sounds so exciting..the site of iceberg's,whales and penguins must be amazing. Not much of a cold weather person!! Hope the sea isn't to choppy for all of you..look forward to your pics and stories. Say hi to Dee from Kenzie and I..Stay safe.!!
---
Jeanne - 1/14/2017
For: Terri Gerber and Dave Gardiner
Terri and Dave. The trip sounds amazing and we are very excited for you. We can't wait to see your pictures and hear all about your journey. We are definitely enjoying this blog, thanks for sharing. All is good at home. love, Heidi and Bob
---
Heidi and Bob - 1/14/2017
For: Kathy Kennedy
Hi Kathy K, I only just looked at this trip posting, didn't realize you were gone under. The trip looks absolutely fantastic. Enjoy every minute and keep warm. Joanna
---
Joanna M. Heal Rochester NY - 1/14/2017
For: Joe
Your family and mine are really enjoying your updates. Keep them coming!
---
Bal - 1/14/2017
For: Lise
I wish you could text me some pictures, I'm so curious about what you are seeing! All good here. We have a three day weekend and the kids are thrilled about that. Erik is at your house with Dad and staying the weekend. Victoria is joining them tomorrow and we will probably drive down with the boys on Sunday. We miss you! Love, Bianca
---
Bianca - 1/13/2017
For: Susan Holmes
Can't wait to see your pic's of whales, Tuxedos, and birds. Hope your enjoying the trip of a life time and the seas be kind to all. When you get back let's meet up maybe at the mex. In sodus Stay cool, Joe
---
Joe - 1/13/2017
For: Susan Holmes
Lucky indeed! Sounds like you are seeing some amazing things in a very remote part of the world. I'm jealous but excited to hear you recount your experiences when you get back. Take in every moment and enjoy!!!! I love you!
---
James - 1/13/2017
For: Kathy
we are jealous. peela, mike and roscoe, especially roscoe
---
us - 1/13/2017
For: Rick and Marcia
We are loving the posts. Lisa wishes she was with you while Lori wishes you were here with us. She bought 6 bars of chocolate anticipating your return. Mint, orange, toffee, chili....
---
Lisa and Lori - 1/13/2017
For: Kathy
Kathy, thinking about your adventure every day and learning a bit more about the 'bottom of the world'. Sounds like an unbelievable experience and glad the weather gods seem to be cooperating. Looking forward to your narration of your adventure when you return!
---
Matt & Rita - 1/13/2017
For: Peggy
Hope your having a great time! Enjoy Enjoy!
---
Steve B - 1/13/2017
For: Jennifer
Looking good, Jen. It all sounds incredible. Enjoy, enjoy, enjoy all!
---
J - 1/13/2017
For: Susan Holmes
Fascinating posts! I can only imagine how you must be enjoying this once in a lifetime trip. Looking forward to you sharing photos and experiences when you return!
---
RobH - 1/13/2017
No more comments are allowed at this time.