Viewing Post for: Bhutan, Land of the Thunder Dragon 2014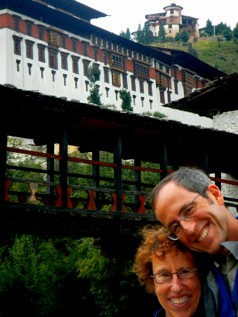 Date: Monday, 5 pm, September 29
Location: Paro, Bhutan
Wow! We are here! Amazing! Great flight in. Nice and cool here which a change from sweaty Bangkok. Dan is due in here in the morning, a day late but will be here.

All are well. We visited the ancient an ancient sentry tower from 1600 AD. It has been 1/2 destroyed since we were here 5 years ago by an earthquake.

The local 500 year old fort is doing well. About 200 monks are living and learning in this monastery. The best trained ones will go fast without food or water for months at a time and their hearts even stop during meditation.

A local archery tournament was going on. It is their national sport. The field is 300 feet long and the players play in teams. They jump in front of the target to distract the others.

Lunch was variety of fresh vegetables and their national dish of cheese sauce and hot peppers. Yum.

Stay tuned for tomorrow when we scale the cliffs to over 2000 feet above the valley floor to the Tiger's Nest Monastery.
---
Messages for this post
For: Barbara
Ok... Get ready! Are you getting excited?! Repeat after me: "I will just keep walking. I will just keep walking. You will not put me on that horse. You will not put me on that horse." :) Soak it up Mom! So proud of you!
---
Carol - 9/30/2014
For: Monika
surgery went well..no surprises. I will see her tomorrow and give u an update...you enjoy will share your adventures with her... nice pic at the market...
---
bonny - 9/30/2014
For: Monika
The surgery is today at 2:30...2hrs. I will try to see her latter today. She will be under for 2hrs. Well prepared, resigned and do acupuncture. Hope all is well with you and that your altitude concern was wasted effort. warmly
---
Bonny - 9/30/2014
For: Barb/Mom/Grammy
The headline in the Morning Times this morning was that Bhutan's happiness index saw a sudden upward surge! No, actually it was me in the newspaper again. Don't worry, it was good. Enjoy the hiking, you worked hard to get ready! We are proud of you.
---
Todd and the Gang - 9/29/2014
For: Barb
Have a great hike to the Tiger's Nest Monastery, remember all the prep work you did to get to Bhutan and relish in the day. It has been very warm here. Wyatt had a tournament this past weekend with 5 games on Saturday, he was tired and sunburn by the end (so was Todd). We were not too disappointed that they did not make the finals, which would have meant going back Sunday.
---
Tara and the Gang - 9/29/2014
For: Jeff
I just wrote on yesterday's blog so please see that. How did you like the HOT peppers?
---
Esther - 9/29/2014
No more comments are allowed at this time.