Viewing Post for: Bhutan, Land of the Thunder Dragon 2014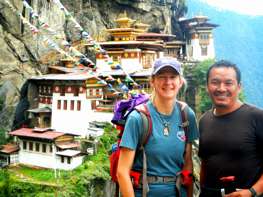 Date: Tuesday, September 30
Location: Paro, Bhutan and Takstang Monastery
That picture probably says more then we can in here. That is Karla and Jaam, our new Bhutanese friend and guide. We are at 10,000 feet after a 2 plus hour hike up to the Monastery. Hundreds of years ago, Guru Ringpoche flew on the back of tiger to this cliff to subdue the local demons who had been plaguing the locals.

Great hike with lunch on the cliff-side cafe.

Our short stop at another monastery that we could not get in because the Queen mother was there for a 15 day ceremony.

Now we are packing to begin our hike.... Oh, Dan did arrive today. All is well here.
---
Messages for this post
For: Barbara Harmer
Barb, this all looks so exciting! Great that we can follow your trek! Hope you are having a great time!!!!
---
Rose Cooper - 10/1/2014
For: Monika
She is home... pain is managed well. She called me and is feeling ok. Wants me to get this blog up so she knows you are ok... that is it re health... enjoy your adventure. love bonny
---
Bonny - 10/1/2014
For: The Fossils
Any word on how they are doIng? Hope they aren't "overburdened". Have a great trip. BTW the ADKs are looking good but not as great as your trek. Best regards.
---
Ralph - 10/1/2014
For: Jeff
House is very quiet except when Snickers barks. Hope you are having a great hike
---
Esther - 10/1/2014
For: Yma/Papa (Mom/Dad)
Looks like fun! Jay said he'll join you on your next mountain trip.
---
Jay, Cindy, Jeremy - 9/30/2014
No more comments are allowed at this time.