Viewing Post for: Bhutan, Land of the Thunder Dragon 2014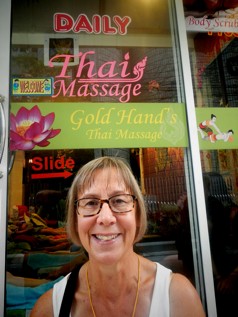 Date: Sunday, September 28
Location: Bangkok, Thailand
Saturday was a blast. We went to a huge 68 acre market after learning to navigate on the trains. Then we visited the Jim Thomson house. Jim disappeared in 1967 into the jungle and was never seen again. Later a few of us went out for the nightlife. Too wild to write hear. We are working on getting Dan here. The Chicago debacle delayed him.

Today, Sunday we are doing a tour of a temple, a boat ride in the canals and other local exploring.

Stay tuned for our first post from Bhutan, we get on that plane on Monday.
---
Messages for this post
For: Monika
Alles Gute!!! Daheim ist alles OK! Lieben Gruss!
---
Fred - 9/29/2014
For: Barb
We are all hoping htat you participated is the "too wild to write about" Thai Nightlife. Each morning we wake up and say, "Grammy is in Thailand or Grammy is in Bhutan". Oliver says, "I know, I know", apparently it is old news for him, but we are all so excited! Thinking of you and your fellow adventurers! xoxo
---
Tara - 9/29/2014
For: Jeff
Just got home from Indianapolis- it is a long drive. Snickners is glad to see me. Emily played great (though the team did not- lots of errors and sloppy play) Emily played most of the three periods and she SCORED TWO GOALS and had a draw control. She looked great. Rick says you had a foot massage. Did you go out for night life?? Say hi to all and Barb. Enjoy the hiking and love you!! Esther
---
Esther - 9/29/2014
For: Barb
Glad you made it to Bangkok! Did you go for a massage? - You might need one when you are done with your trek! Have safe travels in Bhutan. - Enjoy your Adventure!! With Love.
---
Pam - 9/29/2014
For: Barbara
Mom: I hope you are having fun! Did you go out to see the "nightlife?!" I can't imagine you doing that. All is well for me. Daniel is gone which is a huge relief. I think of you every day. Sending love to Thailand and Bhutan!
---
Katie - 9/29/2014
For: Jeff
Jeter made walk off single in final home game and rbi single in final at bat in Boston. Hope your having fun
---
Paula - 9/29/2014
For: Barb
Dad, Marg and I are going to Canada. I have decided to quit TV till you get back. You could get lost in there. It requires the buddy system to avoid this fate, and my buddy is in Bhutan. I am well. Hope all is well there. I hope you are having a "blast." Love.
---
Les - 9/28/2014
No more comments are allowed at this time.