Viewing Post for: Bhutan, Land of the Thunder Dragon 2014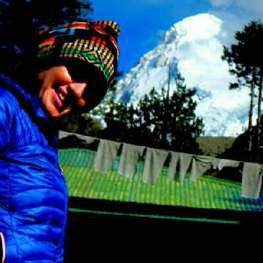 Date: Friday, October 3
Location: 13,200 feet. Jomalahari Base Camp
5 hours walking. Windy, 50 degrees daytime.

Sitting here beneath a bunch of yaks writing this. All are good. A few with some queasy stomachs from altitude. As you can see from the picture of Jomalahari, we are way into the Himalaya Mountains. It was amazing to wake up and see this giant glacier covered mt, over 12,000 feet above us. During the day it disappears in the clouds. We passed beyond the trees today. The mountains are covered with fall colors. The drama of the trek is increasing as it is colder, winder, and the mountains are so exposed here.

We are at the last outpost of civilization. Here are nomadic yak herders. Soon these mountains will fill with snow and they will be cut off from the outside world for months. Life here for them has not changed much over the years.
---
Messages for this post
For: Barb
Missing you! Have fun! Beth, from rainy NYC
---
Beth - 10/4/2014
For: Rick and Marcia
Hey you guys!!!! Just got home from Regina! Wish I (Lisa) was there with you. Lori says she dreamed you were riding on a red carpet to the top of a snow-capped mountain. Celebrating with Father Jim for his 40th Ordination.
---
Lisa and Lori - 10/4/2014
For: Amy & Jeff
Hi mom and dad! Following your progress up the hill. Hope everyone is feeling well and hope you are enjoying what looks like a fantastic experience!! Love & miss you, Becca
---
Becca - 10/4/2014
For: Barbara
Keep going strong, Mom! Thinking of you all the time!
---
Katie - 10/4/2014
For: hedda
hi pet a yak for me enjoy tarec
---
amy&jeff - 10/4/2014
For: Barb
Wow what an amazing trip. You need to feel proud about this one. I'd never last lol. Have an awesome time.
---
Deb - 10/4/2014
For: Rick and Marcia
Pictures look great wish i was there.Sounds and looks like a great trip.Be safe fun seems to be all around you guys.have a ginger tea for me.
---
Daddeo - 10/4/2014
For: Barb
Hope you are having fun! Enjoying reading the updates :)
---
Michele - 10/3/2014
For: dan
weather is good. everything is OK here. have fun
---
joane - 10/3/2014
No more comments are allowed at this time.