Viewing Post for: Bhutan, Land of the Thunder Dragon 2014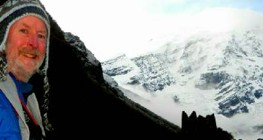 Date: Saturday, October 4, 3:30 PM.
Location: Jomalahari Base Camp again
Last night was about 22 degrees. Today was about 65 and really lovely. Yesterday it snowed here but that is all melted now. Hike was 4 hours.

Update on people. Jeff L. Had a bit of an eye issue that is all okay now. We were able to check with doctors. In USA via satellite email and in this valley for a few miles there is cell service which Jeff was able to call USA on. Thanks to Esther and others who helped research the answer. Barb woke up a bit under the weather due to altitude but is fine now. Some are tired but feeling well enough and adapting to the elevation.

Today is an acclimatization and rest day. So we day hiked 4 hours round trip to 14,000 to this beautiful lake. Both 23,000 footish mountains that are right here showed themselves in all their glory all day. They have gigantic hanging glaciers. On the hike to the lake we stopped to talk with a nomadic yak herding family. They were just shutting down their camp for the season to held to town for a festival. At the moment they were tying up bundles of wood to carry they had not used. We were hoping for a pot of yak butter tea but none was on the wood fire.

Big day tomorrow as we head up and over a15,000 foot pass.

To answer the blog questions, the dogs are owned by no one. They live off of scraps in the camps. We eat french toast, eggs or local rice, vegetables or Indian food like puri which is cooked local vegetables in a sauce for breakfast.
---
Messages for this post
For: Marcia
All is well here, my friend. Can we get an update on you? Sherwin is great. Lots of interaction with Wanda. Love you.
---
Kath - 10/5/2014
No more comments are allowed at this time.