Viewing Post for: Bhutan, Land of the Thunder Dragon 2014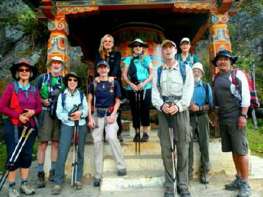 Date: Wednesday, October 1, 1 pm
Location: On the trail
4 hour walk today from 8300 to just under 10,000 feet

Yes, after all this travel we begin to trek today. Nice walk on local farm road you might say. Passing fields of rice, steep wooded mountains and local houses. The people are very friendly. Little kids stop to talk, help repack your day pack. Older people who are spinning giant prayer wheels smile and wave.

Lisa feeling a little down so so rode the horse the last little bit.

Food is fresh and local. Lots of tea.

We have a staff of 8 including the horse man, cooks and guides. Good crew. Many speak english.

Weather turned from the monsoons to lovely just 2 days ago. Stay tuned.
---
Messages for this post
For: Barb
Wishing the whole team a great trek with lots of beauty, laughing and wonderful hiking. Hope that you are all comfortable at 10,000 ft, that is rather high! We are helping our friends get ready for their wedding this weekend, very exciting. Can not wait to hear about you adventures.
---
Tara - 10/1/2014
For: Barbara
MOM! I can't believe you have started your trek! You look SO CUTE in that photo! I am proud of you. You have worked an incredible amount for this trip and I hope you are enjoying every minute. Please take it all in so that you can tell me about every detail when you get back. Thinking about you there makes me want to cry. YOU DESERVE THIS! WE LOVE YOU! KEEP WALKING!
---
Katie - 10/1/2014
For: Marcia
I am doing ok here. Randy takes me running and lets me go swimming. He rubs my belly all the time. Sometimes he gives me two fingers of peanut butter with my pill. I hope you are having a good time. Tell Rick hi too, I miss him as well. Love Baxter
---
Baxter - 10/1/2014
For: Barb
Go, Barb!
---
Les - 10/1/2014
No more comments are allowed at this time.