Viewing Post for: Kilimanjaro Climb 2012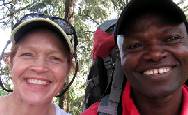 Date: February 15, 2012
Location: Shira 1 camp
Happy Birthday to Paul's wife Jean back at home. Bill is here he says. We saw some Colobus monkeys yesterday. All are doing well but a few are challenged a little with the walking. Be sure to listen to the live audio updates. The group is very fun to be with. The Africans send a huge thank you to those who donated for the packs. They love them.
---
Messages for this post
For: Marcia & Rick
Congratulations on making the climb. Wonderful. Yeah! We love you. Safe journey home.
---
Mia, Patrick, Ellen and Jean - 2/20/2012
For: Marcia and Rick
Hi guys- I have been following your journey. hope your body is holding up...your massage therapist is too far away for HELP. xox POL
---
Polly - 2/18/2012
For: Lisa and all the Gang
We all '1 4 3' you all. Keep it going guys!
---
Paul - 2/16/2012
For: Lisa
Lisa (Spatzi?!), Susan B. Anthony would be so PROUD of you...thanks to her and many other pioneering, tough wome,n you get the chance to prove your mettle! Don't forget what Susie B. said as her last public words...FAILURE IS IMPOSSIBLE!!!!!!!!!! Love, Beth and Kay
---
K&B - 2/16/2012
For: Lisa
I told Louie not to worry about you and the cold. Explained that it's way colder walking home from The Rusty Nail and that you got a lot of experience doing that (albeit with a Pizza Roll in your jacket for warmth). The kids are having fun tracking you each night on the computer. Very Proud Of You. Keep it up!!!
---
Mark - 2/15/2012
For: Aunt Lisa
I hope you have fun. I love you.
---
joey m - 2/15/2012
For: Aunt Lisa
Is it cold up there????? I'm in hockey playoffs. Thursday is our first game. I am thinking about you all the time.
---
Louie - 2/15/2012
For: Chris DeG
I bet you are loving it, and it must be beautiful. Scotty and his family are back home and helping us "take care" of Mom and Dad.
---
Ruth Lee - 2/15/2012
For: Lisa
Just want to say hello and good luck to you! How amazing it is to know where you were when I met you 16 years ago and how far you have come today. I hope you are standing strong and climbing well. I know it isn't a wall at Bele Chere but I know how much it meant to you. So climb Girl climb.
---
Ricky Pendergrass - 2/15/2012
For: Kili Treckers
Sounds like everyone is doing well. Enjoy every minute
---
Jack - 2/15/2012
For: Bill Heim
Hi daddy, hope you're having fun. I still think your toe shoes are ugly. I applied for another real job because I'm awesome. Oh, and some girl likes Midget and I called and threatened him if he doesn't talk to her. I hope your trip is as bad ass as you thought it would be. Rosie
---
Rosie - 2/15/2012
For: Chris and Pete
Hey guys! I hear that the monkeys are the big topic so far! I hope you guys are taking tons of pictures! It is 6:25 PM here so I bet you guys are already dreaming about the next days climb. Good Luck tomorrow and rest well! Love Ya!
---
Jason - 2/15/2012
For: Squirt
Thought of the Day: Ten thousand flowers in spring, the moon in autumn, a cool breeze in summer, snow in winter. If your mind isn't clouded by unnecessary things, this is the best season of your life. (Wu men) Wishing you and everyone you are with the best season of your life!
---
Monkey - 2/15/2012
For: Lisa (Lee)
Hi Lee. Hope this finds you well. Things here are good. I've been taking the pups out every day. I'm keeping on top of all the stuff that has to be done.You'll be happy to know I'm getting out too! Your Mom and Aunt Cece checked in, as well as Phylly, and my sister. I start back to work next week but I did get clearance to only go half days. I can pick you up at the airport! We all are cheering you on. We hope you are doing well. 143
---
Lori - 2/15/2012
For: Rick and all
Rick we care about you too. Paul has healed some and he said to say hello. HOW COOL IS IT TO HAVE MARCIA AT YOUR SIDE.Good luck to all. Go Dara I Love Youuuuuuuuuuuu
---
Tom - 2/15/2012
For: Dardra
So Shira 1... of course all i can think is princess of power which is clearly what you are! Yes, i have always watched too much tv and no i can't get through anything without a pop culture reference, but it is all out of love! you are the princess of power for two whole days of shira camp and always of course Love!
---
Peggy - 2/15/2012
For: Mary Ann
We are thrilled knowing you have arrived. It's such fun checking the messages regarding your climb. We are all fine. Meggie sends a special hug your way. Take care and enjoy each moment. Love you.
---
Joy and all 2/15/12 - 2/15/2012
For: Marcia
Marcia, who is that handsome man you are standing next to? Is that Yusuf? :-) Great photo, great smiles! Hope your back is holding up well with all the hiking. Rochester is cheering you on!
---
Leanne C. - 2/15/2012
For: Katie
We are enjoying the daily progress reports. Remember... "Only when you've been in the deepest valley can you know how magnificent it is to be atop the highest mountain." -- President Richard M. Nixon
---
HCM Fab 5 - 2/15/2012
For: Peter & Christine
Wow! Thomas & JJ (and I) would love you to bring home monkeys! Sports headlines: Saints shock Jaspers 70-64. Dust mop wins Westminster Dog Show. Tonight's Jimmer versus Jeremy Lin matchup blacked out on Time/Warner. Lin drained tie-breaking 3 with < 1 sec left. Could you hear Knix fans all the way on Kili? Word of the day: WHY? Geo Mallory's answer: "Because it's there." What's your own answer?
---
XOXOC - 2/15/2012
For: Chris DeGolyer
Chris - We're all so excited to be following you and your team on this adventure. We're thinking of you and sending WARM wishes. I want to write a feature about you for our News & Tips blog this week! --Susan
---
Your Miner Colleagues - 2/15/2012
For: Christine and Peter
Excited about getting these messages everyday. Hope your taking pictures of the monkeys. Take care of each other All my love, The Non
---
The Non - 2/15/2012
For: Derek, Katie, Raiel, Chris and Raiel's Bro
Hey Guys! Pete and I were thinking of you yesterday as you started the trek! I can't believe you're a world away... Amazing! Slow and steady... Sending you lots of positive vibes!
---
Mindy - 2/15/2012
For: lisa
If you only knew how many people are cheering you on!!!!!!!!!!!!!!!!! Remeber how much you touch so many lives. love you momYFIWI
---
mom - 2/15/2012
For: Katie & Derek
It must be so exciting to be on the mountain and see monkeys.....I know your cameras are at the ready. Breathe.....walk slow.....no hurry.....alls our love.
---
Mom & Dad - 2/15/2012
No more comments are allowed at this time.