Viewing Post for: Kilimanjaro Climb 2012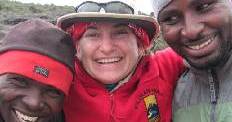 Date: February 16, 2012
Location: Moira Camp 13,400 ft
Happy 38th anniversary to my hot and sexy wife Andrea. From Peter. Jenny, I bought your gift in the market. Happy Birthday Gene.

We are starting to suffer from oxygen deprivation so are not accountable for any comments from here on out. A few minor stomach aches last night at 11,500.

Clouds broke revealing how close we were to the towering summit of Kibo, oh, wow, we really going there? Sun warmed the frost for the hike across the moorelands. Clouds formed below us as we hiked. Yes, we are in a place apart, halfway to heaven, sometimes brushed by its grace.
---
Messages for this post
For: Deirdre
Did you tell them that the name of their camp is spelled wrong? :)
---
Maura - 2/19/2012
For: gene
Type your message here...hi gene hope you are having fun on that mountain dont forget that you have a team to coach in colonia so hurry up back its almost time for play off...
---
zane dad and mom - 2/17/2012
For: Dee
Hi Dee! I log-on every morning to listen to the latest voicemail & to see how high up you are. It's really fascinating. Mr. Moore is out of control with the snow snake comments...they don't really eat popcorn! :) Ash is coming home this weekend so we'll all log on together and send you good wishes. I asked Mr. Moore if we could climb Mt. K. but he said I'd need an oxygen tank! Imagine that! We miss you & love you & are so proud of you! xoxo
---
Momma Moore - 2/17/2012
For: all
By now the honey moon is "fadding" and little things seem so very important... who was late to a meal, who snored loudest, your headache or sore foot... MUCH of that will be forgotten before you leave Africa. Stay focused, think often of those your are there for.. Let the names on your banners carry you when things are tough. Be there for each other you will share a link that will GROW in the years to come. Keep climbing Keep inspiring! YOU ALL are heros!! THANK YOU!
---
Matt Flanigan - 2/17/2012
For: Marcia
I've visited your office several times with Leanne and her Corgis. She told me about this amazing journey and I have to say it's AWESOME. The where and the why and the whole thing ... a BEAUTIFUL THING!!! I wish you and all your fellow climbers the very best!
---
Larry Bovenzi - 2/17/2012
For: Dara
Sending you tons of positive energy! Remembering Milo, hotdogs for breakfast that warm water outside the tent. Hope you are seeing some new and exciting things and enjoying every challenging step - you rock! Pol'e Pol'e
---
Gin and 2010 gang - 2/17/2012
For: Lisa and all the Gang
Wonderful to read all these great postings, and just feel all the warmth, love and support that's being sent in the direction of Kili right now. Enjoy your day! Love to each and every one of you, particularly to our 'little energy ball'. x
---
Paul AKA The England Fan Club - 2/17/2012
For: Lisa
I believe you've found your 'Corner of The Sky...' Enjoy the Journey. With Love in Phi K.
---
Kathryn - 2/16/2012
For: Lisa
We just topped $5000! You're awesome.
---
Rik - 2/16/2012
For: Everyone
Some jokes for your listening pleasure. What's orange and rhymes with a parrot? ........... A carrot! Why didn't the skeleton cross the road? ........... He didn't have the guts! What do you call a dinosaur with one eye? .............. A "do-you-think-he-saurus!" Hope you enjoyed! Thinking of you all and wishing you good weather, healthy stomachs and many hot dogs for breakfast!! Just keep walking! -Sadie (Kili 2008 & 2010)
---
Sadie - 2/16/2012
For: GENE
Thanks for the birthday wishes! Miss you! Hope you are feeling well and enjoying every minute! Love u:) Aiden and Taylor were fighting today and he said, "Tawor, shut your pie hole" it was funny...probably should have punished him:) kisses from Taylor
---
JENNY - 2/16/2012
For: Christine
Chris and Peter... Hope all is well! This has to be a great accomplishment once you guys reach the top! Good Luck and stay strong! We miss you Chris and Buddy asks everyday if you made it to the top yet lol... He misses his auntie! xoxo
---
Aja and JJ - 2/16/2012
For: Bill
Lots of folks at work wish you the best and are following your progress. Adam says the Mets need pitching so keep your eyes open for local talent.
---
Nick - 2/16/2012
For: Bob, and all awesome climbers
Bob & all, Wow, I've never been halfway to heaven! It must be an out of body experience right about now. I hope you are sleeping and eating well, and that the sun is at your back as you journey towards your goal. Every step you take has meaning and depth beyond measure. you've already reached the top in our minds...just taking on this challenge makes you all super stars! Thank you ALL for taking on this challenge for your individual causes.
---
Janet & Doug - 2/16/2012
For: Deirdre
I Need to correct my message from yesterday: There are no known Yetis on Mount Kili. I assume responsibility for the error. Ashley and Cindy had nothiing to do with it - There are only snow snakes. Should not be a problem though. While they are some 4 to 5 feet long, they are found only above the snowline and only eat popccorn and peanut butter. We're pulling for all of you on this incredible journey up one of the world's great mountains.
---
Preston and Cindy - 2/16/2012
For: Chris DeG
Thinking of you! You're probably not missin' the dance one bit. Take good care of yourself! Looking forward to pics and stories.
---
Jane - 2/16/2012
For: Lisa
Remember, listen to your body...and if you start to lose your mind and forget - then at least listen to Rick!!
---
Cooper's Mom - 2/16/2012
For: Paul
Got your camers figured out? Everyone is waiting to see the pictures. I see some PowerPoint shows in the crystal ball. Luv you and I miss you more every day.
---
Jane - 2/16/2012
For: Lisa
Hi Lisa, Guess you are HIGH but on your climb!! This looks like the shortest day but the most gruelsome. Take slow, short breaths and rest when you have to. I'm sure the advice is lost because you are probably a day ahead of us. Looking at the stars and thinking of you like I did when you were in Kenya the last time. My love and admiration are with you. Aunt PattyTUBAW
---
Aunt Patty - 2/16/2012
For: Buster (for those of you who don't know - aka Bob Ames)
Dad - I saw your letter referencing Ga on the side of the desk at home. I know you can't really respond - but, if you can, do you want me to pass that along to Uncle Ken and Aunt Laurel when they come into town? It's about your thoughts of her going to EA I think! They are not coming until the weekend I believe. Hope you're hike is going well - you're probably sleeping right now - unless you're awake at 3:00am Tanzenia time! We are thinking of you and have your article with picture! C
---
Sweets - 2/16/2012
For: Deni
You are the most awesome sister! I am so proud of you. I'm sharing this web site with some of my classes and they think you pretty cool too. Stay safe and enjoy every moment of your hike. Love Cathy
---
Cathy - 2/16/2012
For: Bob Ames
We are reading the updates and are excited about your climb !!!!!!! We built our side yard mountain of snow last week. Two mountains actually. Going for a whole range, but we need more snow! : )
---
The Maiers - 2/16/2012
For: Bob Ames
We're rootin' for ya... stay healthy. Marilyn says... "Breathe in, breathe out"
---
Bill & Marilyn - 2/16/2012
For: Bob Ames
We're rootin' for ya... stay healthy. Marilyn says... "Breathe in, breathe out"
---
Bill & Marilyn - 2/16/2012
For: aximum 255 chars)
Hey coach need to hurry up and back sent your play book
---
Fromimum 255 chars) - 2/16/2012
For: Lisa
Here comes your sarcastic brother that you know and love, not the sappy said that posted the last note....just can't help myself. How high did they have to lift you off the ground in that picture? We have a bet going; over/under is 7 inches. I took the over. Mark (elevation: 154 meters)
---
Mark - 2/16/2012
For: Lisa
One step at a time..... When you can't find the strength to lift your foot for the next: stop, look around, and know that there's a large number of people willing your foot the strength to take the next step. We are all living vicariously through you. Love you, Mark (elevation: 154 meters)
---
Mark - 2/16/2012
For: Chris
What an amazing trek - this is so fun to follow! Can't wait to hear all about it!!
---
Emily Schneider - 2/16/2012
For: Mary Ann
Meggie and I have been talking about how proud we are of you. We all so hope you are feeling well, even though we know you must be a bit sore and tired. Hopefully you are sleeping well. Meggie would love to be snuggled up with you. I haven't seen a cardinal for quite a while; however, a pair appeared the day you arrived in Africa and One has visited each day since. The Irish Setter that was in competition for best of show is owned by a good friend of Gin's. We love you. Hugs & Prayers
---
Joy and all - 2/16/2012
For: Peter & Christine
Hope you are having a good time. How many "lava" stones can you bring home? love Jack Oxygen is over rated, just Breathe in the moment. love you both. Mary
---
Jack (Shea), and Mary - 2/16/2012
For: L.A.
You are awesome! Big smiles just looking at your pictures.
---
Brooks - 2/16/2012
For: Bill Heim
Hi sir I hope you are have a good time. I miss you. Everything is good here. Mom is behaving so don't worry. I hope your take lots of pictures and did you get anything cool at the market.How is the banana beer? I love you Willy
---
Willy - 2/16/2012
For: Lisa and the crew
The picture of you three was fantastic! You can see the joy in all your eyes. How amazing to be walking above the clouds. Keep breathing...sounds like things will get more challenging now. Thoughts and prayers are with you all! One foot in front of the other guys!!! You are all heroes. Take care!
---
England fan club P&L - 2/16/2012
For: Marcia
You are probably feeling like the Bionic woman about now. Today I read some about acute mountain sickness and I'm keeping my fingers crossed that none of you are experiencing that. I'll probably be hearing from Luba on Friday about Kierra so I'll send you some well wishes from your work gang. Climb High, Sleep low! You ROCK! No pun intended. Well okay, maybe a little. :-)
---
Leanne - 2/16/2012
For: Peter & Christine & Trekkers
INTERNATIONAL CRISIS: Colbert Report unexplainedly off the air!!! Comedy Central claims "unforeseen circumstances." Surely some of you will want to be evacuated back home to be with your families at this trying time. Send good mountain karma to Mr. Colbert. Updates to follow as available. Word of the day: STRONG. Sounds like the next few days will really try your souls.
---
XOXOC - 2/16/2012
For: Gene
Hi coach it's Armando I just wanted to know when your coming back. What does it look like on the mountain.... And we beat St.cecilia's too bye good luck Armando
---
Armando - 2/16/2012
For: To all my heroes
Great job on the climb so far! Enjoy every moment, take time to look at the stars at night and realize how fortunate you are to be experiencing such an amazing adventure! I'm sure you have fallen in love with your porters but you can't take them home with you! You are all such an inspiration! One step at a time!!
---
From Paul Artruc (Kili '08) - 2/16/2012
For: Dad (Peter) and Christine
Keep up the good work! Make sure to take lots of pictures. "Doubly happy, however, is the man to whom lofty mountain tops are within reach." -- John Muir
---
Andrew - 2/16/2012
For: Christine
Hey babe! Hope you guys had a great day!I was able to leave a message a little earlier today as it is 2:20 PM. You guys must be settling in for the night! Good Luck tomorrow! Love Ya! P.S. Sorry everybody, I'm "that husband" that will say "I Love You" in every message! Have fun! ;-)
---
Jason - 2/16/2012
For: Nancy Stock
Following your progress from Boston...hope all is going well. Sending lots of energy your way, hope the oxygen deprivation hasn't left you too muddled! Enjoy every minute and take lots of pictures. Colleen
---
Colleen - 2/16/2012
For: Lisa (Lee)
Everyone was so excited to see your picture! Your Dad, Aunt Patty and your Mom and I talked about it. We hope you and everyone are doing well and having fun. I'm also posting on Facebook everyday and many people are tuning in. We here in Rochester are sending love and prayers to all of you everyday. I'm staying active. Will be seeing a movie with Phyl and Michelle and then off on Saturday to puppy jumping with Elissa. Just can't wait to hear about all the wonders. 143.
---
Lori - 2/16/2012
For: Deirdre
Hope that you had a great day today (it's about 9:30 PM Thursday with you0 and that your head and tummy are dealing well with the altitude. Enjoy that great feeling of being above the clouds and in a seemingly different world of peace and calm. Stay well, relax and have fun. Love you and so proud of you
---
Dad & Bonnie - 2/16/2012
For: Everyone
Noticing the maps with these posts are off quite a bit, so here's an alternate. The map view with terrain checked shows most of the routes: http://g.co/maps/2gj3h
---
BobB - 2/16/2012
For: D and Geno
So I know it is getting tough and in order to make sure you stay strong and push through and knowing how much gene loves harry potter, I thought I would send magic your way. Wingaaardium leviosa! To lighten your feet and help you float up the mountain. Gene, hope you can wait for tomorrow's, I know the suspense is killing you - but hold on!
---
peggy - 2/16/2012
For: Mom (Vicki) and Kili Climbing Team
Little by little, one travels far. J. R. R. Tolkien Hey Mom, Look at you and your team go... your making serious progress. Harps turned 6 Months old yesterday and indicated she wants to climb mountains like her grandmother, Love, Jenny, Harper, Chris and Gnnochi
---
Chris, Jenny, Harper and Gnocchi - 2/16/2012
For: Lisa
I posted this in a way that buried it in yesterday's posts so here goes again... Lisa (Spatzi?!), Susan B. Anthony would be so PROUD of you...thanks to her and many other pioneering, tough women, you get the chance to prove your mettle! Don't forget what Susie B. said as her last public words...FAILURE IS IMPOSSIBLE!!!!!!!!!! Love, Beth and Kay
---
K&B - 2/16/2012
For: Lisa
So excited for you & proud of the adventure you're on! Sending positive (and oxiginated) thoughts your way! :-)
---
Shannon VanderMolen - 2/16/2012
For: Chris DeG
Having my lunch here, you're probably sleeping, so when you wake up I hope all systems are are go for another great day. Love.
---
BobB - 2/16/2012
For: Paul
We realize the oxygen is getting scarce, but JUST BREATHE. I have been checking on Jane and trying to get her to slow down; meanwhile, we are looking forward to your return and hearing all the great stories we're sure you will have to tell.
---
Pat and Joe - 2/16/2012
For: Deni
Everything is fine here...The 11 inches of snow is almost gone and it's raining today.Bird is fine.Miss and love you.Have a safe climb... Roger
---
Roger - 2/16/2012
For: Bill
Nick misses you. Mountain climbers in Cardio Class are done in your honor! Wishing all of you great succes. Stay Safe.
---
Jason and Jessie - 2/16/2012
For: D & Gene
I just reforecasted figures that are totally reasonable and, if achieved, will put us over goal for FY12. Hooray! (Back to collecting $$$$$$....) I'm raising money sitting in my cubical (a corner cube, sure...) and you're in Africa climbing a beautiful mountain. Wow! Keep up the great work!
---
DMB - 2/16/2012
For: Dara
It's raining here today, which makes us wonder if you have your Sham-wow with you. Hope you don't need it! Hope you are having a wonderful time and doing well.
---
Us - 2/16/2012
For: Lisa
You look joyful, satisfied, full of life. We are all pulling for you here in the flatlands. I pray every day to St. Bernard on your behalf. Lori is great, the pups and kitty miss you and we are all FOR you! Love you. Elissa
---
Elissa - 2/16/2012
For: Mary Ann and Marcia
Visited both houses today, and all is well. I've got more "ciniminies" today, Mary Ann!!! Wish you had some. Hope you can enjoy the clouds and feelings that must come from being at such tremendous height. Starting to feel a bit better this morning--more importantly, I hope the altitude isn't creating too many problems for my dear ones there. Love you, Kath
---
Kath - 2/16/2012
For: LISA
lISA YOU LOOK GREAT. KEEP IT UP!!! WE ARE CHEERING FOR YOU--BREATHEEEEEEEEEEEEEEEE. YOUR BUCKET LIST IS SHRINKING!!! LOVE YA - AUNT CECE
---
aUNT CECE - 2/16/2012
For: Lee
Love the picture Lee Lee--you are home!
---
Lori - 2/16/2012
For: To Chris D
Thinking of you. Missing your expertise ( the search we thought we needed you for turned out to be just a lit search!)Enjoy, enjoy, enjoy!!!!
---
From Marilyn - 2/16/2012
For: D
It took me 45 minutes for Lotus Notes to open this morning. I could have covered a lot of good info with you in the meantime. Like, about Valentine's Day. Or the dress I found yesterday in the Nordstrom catalog. Or how there were 13 people in my Spinning class. Or the fight Alex and I got in to after C4 training. Or how I missed a run this week, so I need to figure out how to make it up. Or how NYSC has called me 6 times already. I think that's mostly it. Hope you're feeling ok! Miss you!
---
DMB - 2/16/2012
For: Gene
Do they have DDP on the mountain? I'm a little afraid that when you get back, you'll be over DDP and I'll have to drink it alone. I've begun to craft my strategy for getting you hooked again.
---
DMB - 2/16/2012
For: Katie
Maddie told us to tell you she said HI! Kate is wondering how her lungs would be doing? Thought of the day..."Life has no smooth road for any of us; and in the bracing atmosphere of a high aim the very roughness stimulates the climber to steadier steps, till the legend, over steep ways to the stars, fulfills itself." W. C. Doane
---
HCM Fab 5 - 2/16/2012
For: Everyone
It sounds like a beautiful journey! Congrats to everyone - I'm still in awe of your commitment to this climb and deeply appreciative of your commitment to helping us fight cancer! So, if oxygen deprivation is making folks quirky, now is the time to get those photo captions ready for the slideshows later :) Can't wait to see! Have the time of your life!
---
Gerianne - 2/16/2012
For: Paul
How is youe head and how is your tummy. I hope your medicine is keeping you feeling fine. Keep taking pictures. I can hardly wait for you to get home. Only one week and you will be back home with lots of stories and pictures. I hope all your high priced clothing is doing the job. Ready for a hot shower? Everywhere I go, I have to tell people what's going on. They all ask. Luv you bunches and bunches. Dan wants me to go see Doc Skillings. Got to get the hernia patched as soon as you get home.
---
Jane - 2/16/2012
For: Nancy, Paul and all Kili Climbers
Great following your climb. Nancy, how is Stinger doing? Does he remember the 08' climb! Remember one small step at a time. Getting into the fun part of the climb.
---
Jim & Bonnie Kili'08, Everest Basecamp '10 - 2/16/2012
For: Lisa (Lee) and All
You cannot stay on the mountain forever. You have to come down again. So why bother in the first place? Just this: What is above knows what is below, but what is below does not know what is above. One climbs, one sees. One descends, one sees no longer, but one has seen. There is an art of conducting oneself in the lower regions by the memory of what one saw higher up. When one can no longer see, one can at least still know. (Rene Daumel, Mont Analogue)
---
Lori - 2/16/2012
For: Lee
Remember Lee, you are little--you don't need a lot of oxygen--breath deeply:-) Remember to meditate and relax. I've been reading up on Tanzania. Today I learned about its history, political system, biodiversity, and geography. Absolutely fascinating. Aunt CeCe and I had a great talk last night. I'll send a quote in a separate post. 143
---
Lori - 2/16/2012
For: Christine
Give your Father a big hug and kiss for me. Have a great day. Love, Non
---
The Non - 2/16/2012
For: Peter
To my wonderful husband, Happy Anniversary, I love you! Loved the message, I guess you might be alittle oxygen deprived. Our computer was down and I panicked, but Cathy came to my rescue and everything is fine. I can't wait for you to be back to celebrate. Enjoy the day, All my love, Andrea
---
Andrea - 2/16/2012
For: Marcia
GO Girl!!!!!!!Little late but Happy Birthday!!!...
---
Daddeo - 2/16/2012
For: Katie
I hope your head is cooperating!
---
Mom - 2/16/2012
For: Derek
I hope your feet aren't sticking out of your tent!
---
Mom - 2/16/2012
For: paul
It was good to hear you yesterday. I hope your not affected too much by oxygen deprivation. Everyone at school is real impressed by what your are are doing. Joe and Pat are coming down to dansville Monday so we can have a birthday party for Jane. Keep taking lots of pictures.
---
sarah - 2/16/2012
For: Katie Derek Chris Raiel & Raiel's brother
You are doing an amazing feat. We are doing Google earth! We follow your trail and imagine (can't imagine!) where you are on the assent. Yesterday we visited a wildlife refuge (altitude 25ft),saw some alligators. Be well,walk slow.
---
Lise John - 2/16/2012
For: Diana
Colby wants to know what it looks like up there. Cameron misses and loves you. Courtney says to be safe and she loves you. As for me, I say Who's Gibb? Love you - Bob!
---
Family - 2/16/2012
No more comments are allowed at this time.