Viewing Post for: Nicaragua Volunteer Adventure 2012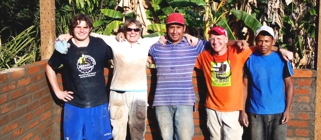 Date: January 27th, 2012
Location: El Sauce
Wow! 531 bricks we put up today! And it was the hottest day so far. Group is doing well. Electricity is back on so we could get ice cream at lunch. Quite the treat.
---
Messages for this post
For: To? (maximum 255 chars)Rick
Hi Rick, So glad the PPS group is carrying on the 4 Walls work. Thanks for taking the package to Meghan. She really enjoyed reconnecting with you and the many friends she has in El Sauce. We had a good chat with her last night after she finally returned to her new home in Honduras.
---
Leslie and Has - 1/29/2012
No more comments are allowed at this time.