Viewing Post for: In the Footsteps of Buddha 2011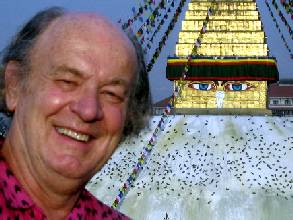 Date: September 13
Location: Khatmandu, Nepal
As you can tell from the picture we are in a place called Bouddanath. Our hotel is right near a giant stupa. This picture is from the roof of the hotel. Last night when we arrived hundreds of people walking in circles around the stupa. The ride here was held up by a road blockage where trucks were stopped for miles. They let tourists through, so after we walked past the trucks to wait while eating lunch, they let us through. You will have to ask us more when you see us.

Today is visiting famous places here such as the monkey temple and the cremation temple. Tonight we go have dinner with our friend Kathy who lives in town. Thanks for your posts.
---
Messages for this post
For: Peter G
Hope you are having a great time! You run circles around 20 year olds. Unbelievable!! See you soon :)
---
Todd & Tessa - 9/15/2011
For: Peter
Pete you're looking chipper. I can't wait to hear about the trip. Kathy saw the post as well
---
Todd - 9/14/2011
For: kate ken
You are going to tell me that the cushions on the seats for the long drives were wonderful, right? amazing architecture!
---
peela - 9/14/2011
For: Peter the G.
Hi Peter. Great adventures as always. Can't wait to hear some stories from this amazing trip.
---
Kevin and Sadie - 9/13/2011
For: Dayle
Erica says buy, buy, buy. Did she give you her credit card? It's pledge time on PBS TV. Guess what the latest miracle food is, that will solve all your problems. Mushrooms! Quite a view from your hotel! Rick
---
Rick - 9/13/2011
For: Peter G
Who would have thought my dad would get his picture on the internet! Hope you're having a blast over there and that you'll actually come home wiser! Love you pops!
---
Gabe G - 9/13/2011
For: Gaylinn
Does Kathmandu look the same? I can remember Bouddanath well! Also, I can feel your presence here much more than usual. I think Tesla called it a torsion field. Be well. Frank
---
Frank - 9/13/2011
For: Peter
Your face truly does say it all! I hear you'all moving along to the crown you are. Stay light.
---
Frank - 9/13/2011
For: Kati Ho(MOM)
Mom! I miss you and listened to your voice recording and it comforted me to hear you! You sound so serene. I saved the last VM you left me on my phone so I can hear your voice when I miss you too much. I hope you have fun seeing Kathy & know how special that will be for u! I wish I was there with u! School is hard & lots of work for my 2 classes. I'm working hard but I have a 20 page paper, YIKES! I luv u & hope u know I am there with u in your heart and my spirit is w/u dancing all
---
Little Kitty - 9/13/2011
For: Peter G
Hi Dad - looks like you're enjoying the trip and hopefully you haven't had to use the Egyptian meds! Spoke with Mom yesterday & she said your VISA card was billed $800 in India - hopefully that was you doing the buying! If not, send a message home! Miss you & thinking of you! Love, Celina, Joe & Tristan
---
Celina - 9/13/2011
For: Peter G.
This is fascinating! Am really looking forward to seeing photos and hearing about what you are eating! Have an enlightening trip!
---
Alex Nhancale - 9/13/2011
For: Joanna
Such spectacular pics and descriptions; I'm loving traveling with you! Blessings to you and all the pilgrims as you walk with others and visit sacred sites.
---
Dawn and the Boys - 9/13/2011
For: Dayle
Hi Dayle, You're in the land of the triangular flag and time off the rest of the world by 15 minutes. I can picture your footsteps here and smell the smells. I wish I were there too. Don't let the monkeys take your camera. They seem to like cameras and purses. Buy buy buy .....XO, Erica
---
Erica - 9/13/2011
For: Joanna
Trip sounds astonishingly novel and interesting, if challenging at times. Things are becoming autumnal just slightly here, but still quite beautiful. I miss you and hope you are well. Love, Neil
---
Neil - 9/13/2011
For: Kate
Hi Lovey, eBay taken care of. No worries. Your adventure is amazing. Such images. We all miss you and hope the rest of your trip is filled withbawe and wonder. Love Bruce
---
Bruce - 9/13/2011
For: Peter G (Please make sure he gets this as he won't be checking)
Hi Papasan, you're looking well in the photo - Good to see you! Bouddanath is a special place and I can imagine just where you are. Kopan is right up the hill from there so I went there a number of times. We're off to the beach today, perhaps the last beach day of summer. Namaste from Quim, Kenia and me
---
Rachael - 9/13/2011
No more comments are allowed at this time.