Viewing Post for: In the Footsteps of Buddha 2011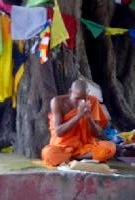 Date: September 11
Location: Lumbini, Nepal
Here we are on 9/11 in Buddha's Birthplace, a World Heritage Site. Also a World Peace Park. May you find some peace in your day today.

Tomorrow we will be driving 150 miles from the plains of India to Khatmandu. It will trake us 10 Or more hours for that drive so we won't have a post.

---
Messages for this post
For: Rick and Daddio
Hi Rick and Daddio, We are having fun thinking of you on your trip. We are all well here. Fun triathlon, good soccer games, off to a busy start in school. We aren't sure if the wind shield on the Mercedes got another hole or not. Rick, take Dad to the barber you used before in Kathmandu, he did such a good job on your hair that time. Love from all the family here.
---
the family - 9/14/2011
For: Gaylinn
My heart is with you, Gaylinn. So, I send a stream of sweet blessings as you taste the nectar of this reverent place....beyond time and space. Love you lots, Sharon
---
Sharon - 9/13/2011
For: Gaylynn
Hope your safari(journey) so far is going well. Spent the weekend at PW, August looks great! Going for fast later in month. I hope your trip is all you dreamed of. Regards to Rick Love, V
---
Virginia - 9/12/2011
For: kate ken
KATMANDU! WOW, you are iving my dreams! xoxox
---
paula - 9/12/2011
For: Gaylinn
I just got home from my trip and read every word on this blog. I can tell you are having an amazing trip already and still so much to see. Enjoy, relax, recuperate, be at peace. Luv you.
---
Margaret - 9/12/2011
For: Kate (mom)
Hi mom! Looks like an amazing adventure so far! So glad to hear you are having a blast and are loving the buddas! You are my budda momma! All is quiet on the home front so enjoy yourself and can't wait to see you pics, I know they are going to be spectacular! Sadie and I miss and love you lots mom! XOXOXOXOXOXOXOXO, Jess
---
Jess (daughter) - 9/12/2011
For: Kati Ho(MOM)
Mom, I love you and miss you so much! It looks and sounds like you are having a wonderful time, peaceful and quiet. Take time to just observe everything around you and be still. Hope your long drive was bearable, since you weren't driving for once! Everyone was safe here on 9/11 and the tension here has subsided a bit. I am praying for you and send you my love, I can't wait till you come visit me in October and share with me your experiences and photos. Luv you and will post more on my new IPAD!
---
Little Kitty - 9/12/2011
For: Peter G
Happy Grandparents Day Papasan! I'm on the phone with mom typing you. Hope your trip is going great and you don't have Delhi Belly. Namaste, love Rachael, Quim, Kenia and Kath
---
From Kathy and Rachael - 9/11/2011
For: Gay
Miss you hope you are having a great time!!!!!!!!!
---
Amylark - 9/11/2011
No more comments are allowed at this time.