Viewing Post for: In the Footsteps of Buddha 2011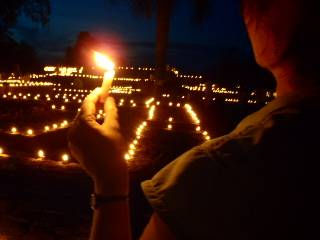 Date: September 10
Location: Saravasti
Hopefully the picture will convey what it is like to be in the jungle at night in a place were for 2,500 years people have celebrated the sacred. Night sounds surround us as we join 50 Buddhist from Sri Lanka in lighting 4,000 candles under a almost full moon.
---
Messages for this post
For: Katie ken
sounds so tranquil....
---
peela - 9/14/2011
For: To? (maximum 255 chars)Dayle
Type your message here...Hi Dayle! So glad Rick sent this site to follow your amazing adventure! Sharing it with Craig and Jenn, too. Looking forward to hearing more details on your return. How very exciting. Following your trip on the map, too. So glad you are doing with wonderful, exciting adventure. Sandee
---
From? (maximum 255 chars)Sandee - 9/11/2011
For: Joanna
Strange yet beautiful day here in Pittsford, the 10th anniversary of 9-11. Plants have thus far survived my inept doctoring :). David and Eric are well, as far as I know. A sad note that Sandy Ehrlich died on Sept. 4th, I've forwarded today's obituary in the D&C to you, David and Eric. All things pass....Hope you are safe, well and enjoying the adventure. Love, Neil
---
Neil - 9/11/2011
For: Dayle
Hope all is going well! You have left our supposedly modern scientific world for a while. Today is the anniversary of 9/11., and all the discussion makes it clear that many here still believe that a supernatural force arranges events to benefit some and hurt others. (Meanwhile I'm wallowing in fresh fruits and veggies.)
---
Rick - 9/11/2011
For: Kate
Hi lovey, Picture perfect day in Rochester. Hope you're having good weather. The blog images are fantastic. Stay well and have a fantastic time. Love Bruce
---
Bruce - 9/10/2011
No more comments are allowed at this time.