Viewing Post for: In the Footsteps of Buddha 2011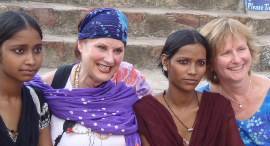 Date: September 9 - Audio Post
Location: Kushingar, India. Site of Buddha's death.
Here is an audio post from the gang. Download or listen:
---
Messages for this post
For: Kate
What an amazing journey!!! I cannot wait to hear about how this wonderful experience enriches your life from these moments forward! I miss you! I received your lovely lovely gift and I cannot tell you how it touched my heart! You are a treasure! I know you are immersing yourself in all that you do and see over these next few weeks and I am so happy for you! Enjoy enjoy enjoy!!! So much love and light... Mitzi xxxooo
---
Mitzi - 9/14/2011
For: Dayle
Dayle, if you didn't see mine before, maybe you missed another important blog the same day. Check it out.
---
Rick - 9/10/2011
For: To?Kate
Type your message here...Kate,thank you for sharing such nice words. You are such a magnet for beauty and knowledge! Be safe and have fun. Xo Andréa and Sky
---
From? Andréa and Sky - 9/10/2011
For: Dayle
I got your message from Danica (sp?)at PPS. You must have missed my earlier post (after the first day.) I'm finally feeling well, after industrial strength antibiotics. They even did a CT scan of my head, but they didn't find anything in there (good news, they said.) The doctor thinks it was a skin infection. The most complicated part of the front room has been stripped, and work goes on. New York still suffering from 2nd hurricane; Part of the thruway was closed. Post more pictures!
---
Rick - 9/9/2011
For: Katy
It was good to hear your voice...looks like you're the spokesperson for the group. I would expect nothing less. Miss you and wish I was with you. I'm sure you're getting some amazing shots...can't wait to see them. Have a wonderful spiritual journey. Be safe. Love, Connie
---
Connie - 9/9/2011
For: Kate
NPR has a job waiting for you when you return. Terms of the contract were not disclosed. Alls well on the ranch. Be well have have a blast. Bruce
---
Bruce - 9/9/2011
For: Joanna
Wonderful audio and blog today; I feel like I'm traveling, too, and I can't wait for "our" next stop! Blessings to you and all in this special group!
---
Dawn and the Boys - 9/9/2011
For: Mr. Gerbick
Peter, Are you there? Wow! If you are, I am sure you are enjoying all the Goddess energy surrounding you! Hope to see you on a post sometime. You'd look good with a Satellite phone. Peace, Frank
---
Frank - 9/9/2011
For: Gaylinn
Gaylinn, My you are photogenic! Your bedroom ceiling is now lavendar, and goes amazingly well with the wall color! Joe B is rockin out the doors and we hired an electrician today that will work two days next week. Cats are well fed and watered. Looks like the weather here will be good as the rain just left. I trust things are going smoothly on the other side!! Love, Frank
---
Frank - 9/9/2011
For: Joanna and the rest of the pilgrims
Namaste right back at you. Thanks for the blog and the audio. The pictures of the Kushingar sculptures are readily available on the web and your audio motivated me to seek them out. This trip is thus educational even for those of us whose idea of adventure is a mediocre room at the Hyatt Regency :).
---
Neil - 9/9/2011
For: Kate
Wonderfully said Kate! Listening to your silky voice I just know you have a future with NPR when you return home! :-)
---
Gordon - 9/9/2011
No more comments are allowed at this time.