Viewing Post for: In the Footsteps of Buddha 2011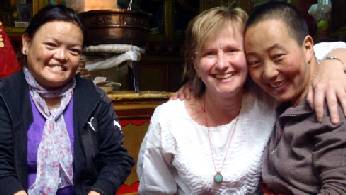 Date: September 18
Location: Lhasa and beyond
Here is an audio post from the gang. Download or listen:
---
Messages for this post
For: Group
Sending you all Light, Love, and Stability !!!
---
Green Tara - 9/20/2011
For: Gaylinn
We are anxious to hear from you.
---
Margaret - 9/19/2011
For: Kate (mom)
Hi mom- was there an earthquake where you are? Hope you are all safe! Let us know as we are concerned. All is well here, just gearing up to go to DC next week for work and then see grammy, aunt caroline, martha and lani! I can't wait! If you need to turn the data off on your phone, go to settings, then general, then network, and turn off the cellular data and data roaming. Make sure your phone is in airplane mode. Hope this helps, love and miss you lots mom! Jesse
---
Jess (daughter) - 9/19/2011
For: Joanna
Hi Mom! Hope you are well and enjoying your adventure. I hope you are able to transcribe some of your experiences so that you can share them with us. Stay safe, have fun. love your son, Eric.
---
Eric - 9/19/2011
For: Joanna
Aloha (oops, wrong vacation location :). Hope you are all well and not "all shook up," so to speak. Things are definitely autumnal here now. Sue Roseff says hello and is impressed with your ambitious travels. No luck getting a hold of David, so far. Off to Montreal tomorrow the 20th of Sept. Back Thursday the 22nd. See you Friday morning at Rochester International Aerodrome. Love, Neil
---
Neil - 9/19/2011
For: Peter G
Hi Papasan, I listened to the audio post- Ahhhh, standing above the clouds looking at a turquoise lake-sounds perfect. Is it possible to feel an earthquake on a mountain top? Hope you're all well and enjoying every second! Spent the day at Walden Pond yesterday, a place you would appreciate, with Guapa in a backpack. Beautiful sunny fall weather here, love, Rachael
---
Rachael - 9/19/2011
For: Kate
Hi Kate, Just read about the earthquake and praying that you are safe and well. Have been thinking about you. Looking forward to visit from Jessica on Sep 30. Have a great time and I will be looking forward to hearing about the trip. Love, Carrie
---
Caroline - 9/19/2011
For: Gaylinn
Hi Mom. Sorry I haven't left a message sooner, been busy and couldn't figure out exactly how to send you a message through the website. Arun called Greglynn and said there was an earthquake in India, Nepal, and Tibet so we wanted to make sure everyone is alright and see how the trip is going. Love August and the Peaceweavers
---
August - 9/19/2011
For: Peter Gerbic
Hey Dad - just want to make sure you're out of harm's way - we heard about the earthquake in the area & are hoping it isn't affecting you there! Miss you & sending huge amounts of love! Celina, Joe & Tristan
---
Celina Gerbic - 9/19/2011
For: Kate
Hi honey, Just read in the paper this AM that there was a huge earthquake in India and Nepal. Hope you are safe. Blog back if you can and let me know your status. Have a wonderful day. Love Bruce
---
Bruce - 9/19/2011
For: kate ken
good to hear more of your adventure...and, we had rain in Texas! Baby Ed is on the phone trying to send you fond regards
---
pee la - 9/18/2011
For: Kate
Hi lovey, On your IPhone, turn your data roaming off or use WiFi to avoid data charges. You are racking up roaming charges. Or you can call 1-908-559-4899 from your phone for help from Verizon. Alls well here. A beautiful day, but fall is here and the nights are cold. Be well, have fun and enjoy. Love Bruce
---
Bruce - 9/18/2011
No more comments are allowed at this time.