Viewing Post for: 2011 Kilimanjaro Climb for Cancer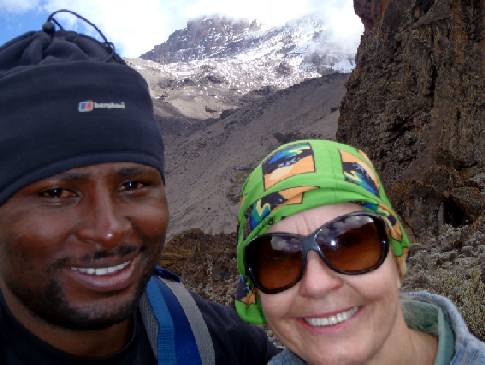 Date: February 28, 7pm
Location: After Summit Update
February 28, 7 pm, Noel gave his flashlight to his brother so Ernani could go to the bathroom and then fell in the dark. He dislocated his little finger to a 90 degree bend. Minutes later in his tent Gabriele reset it with a short intense burst of pain on Noel's part. It is splinted to his next finger and he is doing fine. Don't worry at home, he is fine with it realigned.
---
Messages for this post
For: To noel and ernani
CONGRATULATIONS to you both and very proud for your accomplishment.Your dream came true.Come home safe.See you soon
---
Tita Flor - 3/2/2011
For: Ernani
Congrats Ernani. What an accomplishment. Sounds like you all had a great adventure. Have a safe trip home. Keith
---
Keith - 3/1/2011
For: TJ & Ang
(..ran out of room)I am sure you are very ready to have your judgement free night when you get back home haha. Have an amazing time on your safari, you both deserve it! Lots of love, Linds xoxo
---
Linds - 3/1/2011
For: TJ & Ang
So its about 6pm for you in Africa and I hope you made it back to the hotel safe and sound! I am sure you are soooo excited for a shower and a bed! You wouldn't believe all the people who are so amazed and inspired by you two. I can't wait for you both to get back home so we can tell you in person how proud we are! TJ- I love you & i miss you SO much..I absolutely cannot wait to hear from you :)!! Enjoy your beer tonight that you have been wanting for so long, hehe I am sure you are very rea
---
Linds - 3/1/2011
For: Kevin
Congrats! Knew you could do it!!
---
Tracy - 3/1/2011
For: Foxie
We love you very much and are very proud of you!
---
Bill BA Alexander and Sarah - 3/1/2011
For: Angela and TJ
Hope ur having a quick, safe trip back down the mountain! FYI...on the bachelor tonight, they were in south africa and were on a safari!!! Soooo cool the things they saw! I really hope u guys have a great time and see just as much on ur safari! It would be a great way to end ur incredible journey across the world!!! Be safe and have fun! Miss u and love u both!!! xoxo PS...TJ, I knew that u and Vanek were car buddies, but Jochen Hecht too, really??? Hook a cousin up! Who else do you know???
---
Kerri - 3/1/2011
For: Ernani and Noel
Ouch! Sorry to read about your finger, Noel! Glad someone was able to relocate it and splint it for you. If you fell in the dark, I guess it could have been much worse! Congratulations to you both! Ernani, come home safe. We love you and can't wait to see you! A mina and I will be at the airport on Friday to welcome you both! Lots of love! Sarah
---
Sarah - 3/1/2011
For: Kon
I have to say, I'm pretty surprised that you didn't reduce Ernani's finger yourself! Oh, and I have a fun surprise for you when you get home. Let's just say, I found it in Vermont on my snowshoeing adventure, it's brown, and it smells like pine needles. I bet you're wondering now if this gift is REALLY what you think it is. And I bet you're wondering if I've lost my mind, bringing THAT back to the city with me. I guess you'll find out in a couple of days! Enjoy the rest of the hike!!!
---
Megan - 3/1/2011
For: TJ
...in case you haven't heard yet...(which could be very possible being on top of a mountain)..the NHL trading deadline is over (since 3 pm today) and we are very happy to know that we'll stay in Buffalo. It is always a very crazy time....but the Sabres got a new Forward (BOYES from St. Louis) who should be very good for the team. as you can see ..you didn't miss much here!;-) have a safe trip back home - you did a great job!!!
---
Christine and Jochen Hecht - 2/28/2011
For: TJ and Angela
congratulations!!!!! Mr.Torey and Ms.Sharon both told the team that you reached the top. everyone is so proud of you. be careful coming down. see you in the gym.
---
madison - 2/28/2011
For: Jane
You are so awesome & inspiring, Great climb up the mountain!!!! It has been exciting following you & your groups trip online. Cannot wait to hear ALL your stories when you get back to FL. Enjoy your last day going down this amazing & beautiful mountain but even more, enjoy that long hot shower. a real bed & a glass of wine when you get to your hotel!!! Awesome, awesome effort not only climbing the mountain but also all the training you did for the climb. Sandy xo
---
Sandy - 2/28/2011
For: Angela & TJ
I love you both! I think what everyone has written has pretty much summed it up! I can't wait til saturday so we can hear about this awesome adventure. Angela, was it as scary as going to the principals office??? LOL. Or was it a journey, according to TJ? Stay safe & have a blast. xoxoxoxoxoxoxoxo
---
Moo - 2/28/2011
For: To? (maximum 255 chars)lise
Type your message here...Well done! What a remarkable feat and challenge you have accomplished! All my love. Raela
---
From? (maximum 255 chars)Raela - 2/28/2011
For: Noel
Ouch!!! That hurt just reading about your finger.....I hope you are feeling better. Ernani owes you for your flashlight...say, maybe a few beers....Get some rest now. you deserve it!
---
Eleonor - 2/28/2011
For: Angela & TJ
My Wonderful Kids...I wish for you and everyone there a safe and peaceful decent. You have achieved something amazing I can only imagine. Remember to take pix of your bracelets and plant the seeds. I love you both and can't wait to see you! All my love...
---
Aunt Deee - 2/28/2011
For: Kevin/Dad
so cool!
---
Cathy - 2/28/2011
For: Jane & Joanie
Sitting on top of the world...and reaching for the heavens...Halleluia! Soft descent as you carry the clouds on your strong shoulders. Peace, deep peace.
---
Dan - 2/28/2011
For: tj & angela
what an amazing feat....i can't even begin to imagine all the beauty and each of your feelings upon arriving at the summit. good on ya both!! with much love and admiration for a job well done....
---
aunt val - 2/28/2011
For: Lise
We are so proud of you. We were thinking of you and the group as we went to sleep last night, and said a prayer for you. We know that Charlie was with you all the way. Hope you are now relaxing with a nice glass of cabernet (wellll, maybe not yet). Enjoy the rest of the trip...you are our hero!!!!
---
Marilyn & Charlie - 2/28/2011
No more comments are allowed at this time.