Viewing Post for: 2011 Kilimanjaro Climb for Cancer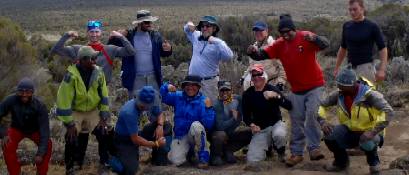 Date: February 25, 2011
Location: Barranco Camp, 12,600
Very long and challenging day. 11-11.5 hours on the trail. 7 people at lunch went as high as 15,000 feet to Lava tower to do a little extra. The rest went to 14,500. That means 7 hours of slow up hill before we got to go down. Myra had some altitude issues and got sick a few times. Now she is sleeping and recovering. Many others were queasy or had headaches. Jane did well with the altitude but it was a very long and hard day for her. So the group was separated on purpose. A couple made it in after dark but were prepared with headlamps. Jane is resting well. When people are challenged questions often arise in their minds if they will make it. Your support helps to encourage them. The group is very supportive of each other. Weather was great but cold. Sunny, then typical clouds giving way to more stars then you can imagine.

It was Kevin's birthday today. To anyone on TJ's spot receiver list, let us know if you are getting his signal he has been sending each night.
---
Messages for this post
For: TJ & Angela!
I hope you guys are doing ok coming down the mountain! I keep thinking about you and I can't wait to hear all about it! You two are so amazing!!!!!! All of you are!!!!! Since it's Tuesday, Jen and I will miss you a lot tonight TJ!!! ; ) We'll be waiting with beers at your return! :)
---
Laur - 3/1/2011
For: Angela & TJ
My wonderful Kids...My faith in you both is stronger than ever. When you get to the top, you will be closer than any of us to Jacquie. Keep reaching for her, she will pull you up. TJ-don't forget to yell your hello to all of us from the top, I'll let you know when we hear it. Angela-send us word you're OK. I love you both very much and am very very proud of you. All my love...
---
Aunt Deee - 2/26/2011
For: Jane and Joan
I hope you both had a rejuvinating rest and are ready to tackle another day...you are so close, you can both do it! Just remember slow and steady will win the day. Just keep looking up, remember all your training, we are all here sending you all our energy (not that you need any). Good luck today and tomorrow, and remember no matter what, you are already doing what most people only dream of.. Remember why you are there...you can make it to the top one step at a time. See you when you get ho
---
Janet - 2/26/2011
For: To Angela & TJ
You are doing it and I knew you would. Keep it up. Remember it's for a great cause. You two are also great. Love,Papa PS. forget Starbucks at the top, it better be a keg of beer for you two
---
From Papa - 2/26/2011
For: TJ and Angela
(sorry guys, Kerri is right-500 characters is too little!)Anyway, we are taking every step with you and every breath for you. Love, mom/AS
---
Mom/AS - 2/26/2011
For: TJ and Angela
TJ and Angela- you continue to amaze and inspire us. We can't begin to imagine what you are going through, how difficult it is to keep going, yet- you do. There is no way to know the number of people who will benefit from your journey, but I know they are all grateful to all of you who challenge that mountain. Stay focused, stay safe and well. TJ, I am stocking up on all you favorite foods for when you get home, and I'll have some soccer ball soup ready and hot for you! To the group- we are taki
---
mom/AS - 2/26/2011
For: kevin
Hey-next time you go to the other side of the planet, please leave the Tootsie Pops OUTSIDE your office:)! Hope you are having an adventure of a lifetime! We are looking forward to your return! Sandy
---
Sandy M. - 2/26/2011
For: To Kevin
From the flat lands of Florida. It seems impossible to climb that high. All of you are inspirations. May all of you reach your destination safely. God's blessings.
---
Jane - 2/26/2011
For: All
Happy Birthday to Kevin. We are receiving TJ's spot locations with long. & latit. to bad not altitude with it. You all are doing an amazing job. The ability to reach the top is with you all, it may be difficult to find at times the next two days but it is there, lying within the reason you choose this incrediable journey. All your loved ones and friends are cheering you on. You can and will find the way to do it. Best wishes for your success. Torey
---
TJ's Dad - 2/26/2011
For: Kon
Hi!!! We've already finished off three bottles of Riesling and have been thinking and talking about you for a good portion of the night. Obviously, our thoughts are with you. We hope you're acclimating well and that all your equipment is keeping you warm and dry. Kitty can't wait to have you home. Keep up the good work!! Love, The Stonehill Girls
---
Sunshine, Meg, and Court - 2/26/2011
For: TJ & Angela
It is now Saturday morning for you and getting ready for the climb to Karanga Hut - you can do this. You got past yesterday's tough day stay strong, think strong, be strong. The summit is in site, stay warm, rest, and remember why you undertook this incredable journey. Get thru today and tomorrow is the day you dreamed about. Jax is with you all the way. Jax speed to you all. Love you !!!
---
Dad/U. Torey - 2/26/2011
For: SAM
Where are you in the photo?? Sounds like a long, but gratifying day. I am in NY City and Lisi and I just got back from seeing Spiderman on Broadway - you would have loved it! Can't wait to hear about the view from the top.
---
mom - 2/26/2011
For: MyMy
Oh MyMy, I've felt your pain, sistah, with the altitude sickness. I hope your rest has prepared you to get back at it and kick some tail! I think of you each time I look up at "my" Rockies, remembering your RMNP training trip and your tenacity in preparing for Kili. I wish I were there with you now to tell you how proud I am of you! You'll just have to take my cyber-word for it. I love you, MyMy! Elena
---
Elena - 2/26/2011
For: Angela and TJ
(cont...) my love and strength! xoxo PS. This "maximum 500 character" thing sucks!!! We have more to say than just 500 characters...just saying...
---
Kerri - 2/26/2011
For: Angela and TJ
I had a really hard day today. I was at Roswell with dad for his surgery and I sat in the waiting room by myself and just cried thinking about Jacquie! I miss her sooo much and wish more than anything that I was on that mountain with you both doing this in her honor! Then I read the update and realized that things are getting more difficult for you too! Keep going! You guys can do it! I know that she's right beside you throughout this whole journey! Jax will help you get to the top! Sending all
---
Kerri - 2/26/2011
For: TJ & Ang
You amaze me... continually amaze me. Both of you- actually all of you doing this!!! Keep up the tremendous work, determination and spirit! You are making so many people proud... including our angel!!! May God Bless each of YOU every step of the way!!! Will be waiting to see the pictures of this life-changing experience!!!
---
Kathleen & Team Hogan - 2/26/2011
For: All
Lava tower is a tough day. Yay for you guys for getting through it! Now you get the reward of Baranco wall!!! It's my favorite part of the climb. VERY fun. Plus there's a Starbucks at the top! Have a fun day. We'll be thinking of you as always. Know that you have so many people sending you strength and love. Just think of Dory from finding Nemo... Just keep walking, just keep walking. Love to TJ, Ang and Kon! Love, Sadie
---
Sadie - 2/26/2011
For: (Ate) Myra
We hope you are feeling better... You've trained so hard for this & we know that no matter what happens, you'll be proud of yourself for such an accomplishment of simply being out there & doing YOUR VERY BEST. WE ARE EXTREMELY PROUD OF YOU!!! Continue smiling as we know you are. Take great care & we Love You!!! Lots & Lots of Hugs too!!!
---
Court & Monina - 2/26/2011
For: Myra
I hope you're feeling better. I have no doubts you'll make it through. We're all with you!
---
Amado - 2/26/2011
For: Jane
Jane, that was an incredibly long day of climbing you had yesterday but I'm sure you got some rest overnight & are ready to go this morning. You are amazing! Thinking of you everyday. Pole pole, one day at a time & one step at a time is all you have to think about. lots of love Sandy
---
Sandy - 2/26/2011
For: Kevin and all
God bless you all and your endurance! Hang in there and take care of yourselves. Nice picture! That is great! Kevin, glad you are smiling on your birthday :) Looking forward to more updates...
---
Tracy, Kevin's daughter - 2/25/2011
For: Kevin
Happy Birthday! May you find what the leopard was seeking! Chris "Kilimanjaro is a snow-covered mountain 19,710 feet high, and is said to be the highest mountain in Africa. Its western summit is called by the Masai "Ngà je Ngà i," the House of God. Close to the western summit there is the dried and frozen carcass of a leopard. No one has explained what the leopard was seeking at that altitude." Ernest Hemingway
---
Chris - 2/25/2011
For: Jane
Hi Jane, Sounds like it was a hard day, but rest up, regroup and you will be on your way tomorrow. We are thinking about you every step of the way!!!! Love, Sharon and Jeremy
---
Sharon and Jeremy - 2/25/2011
For: Ernani and Noel
Hi! We were thinking of you guys a ton while you were on your tough long day... Hope all is well. Congratulations on the new altitude gain! Wow - we can't imagine what it's like there... Enjoy the unbelievable moments you are sharing with everyone out there! We love you with all our hearts... Come home safe. Love, Sarah
---
Sarah - 2/25/2011
For: Kevin
Hey it is still your birthday over here I am sure you had a good one. When do you reach the top of the world?...Brian
---
Brian (brother) - 2/25/2011
For: Myra
Hey there Myra, I can't immagine how aweful you must have felt with Altitude Sickness. I understand that your body will adjust, you will feel better, and you will look forward to the amazing things you will see ahead of you. Rest; give youe body the time it needs to acclimate to your enviroment. Take it slow and pace yourself. If you are one thing it is adaptable. You have the best attitude of anyone I know and that is what will get you through-focus forward. You Go Girl :-)
---
Pauline - 2/25/2011
For: Valerie
11 hours on trail, that is impressive. We decided that no bad news is a good news and we hope you are OK and able to adjust to altitude. Yarik is saying, he is really proud of you:) and he is still waiting for a poster. He also asked to add, that poster not from a summit doesn't count.
---
Natallia & Yarik - 2/25/2011
For: Jane
Hi Jane,sounds like you all had a long day. I hope you get a good rest for another day tomorrow. You are so incredible! Sus
---
Susan - 2/25/2011
For: Kevin
Happy Birthday, Uncle Kevin!
---
Luke and Michelle - 2/25/2011
For: TJ & Ang
I see my man, his wonderful smile, & his huge muscles in the pic!!! Ow ow!!! Lookin' good! : ) Thanks so much for the pic! I hope you are both sleeping well & get enough rest to dominate the rest of your climb. I am praying and thinking of you both. Keep going, so many of us believe in you & know you can do it!! Miss you a lot & love you! XOXO linds
---
Linds - 2/25/2011
For: Lise
Lise, hoping you're doing OK with the altitude, and that you're taking some really great pictures! Up there where the air is thin, you can see farther, and I bet take pictures of some craaaaaazy vistas! Can't wait to see your pictures of the SUMMIT! We're thinking about you all day long back here, Garret especially. He's checking this website obsessively!
---
Chris - 2/25/2011
For: Angela
Hi Angela, Hope all is going well, Just wanted to check in and Say hello, we miss you. Your little man sends lots of hugs and kisses!!!!
---
Cathilynn, Eddie, & Aiden - 2/25/2011
For: JANE AND JOANIE
You are not going to let a little altitude bother you? Get some rest, and you will feel a lot better. We know you can do it, don't give in to the negative. Haul ass! Can't wait to see you at the summit
---
SUE - 2/25/2011
For: Angela & TJ
Focus on today-tomorrow will come. Picture yourselves at the top of the mountain..what do u smell? what do u hear? what do u see? Try 2 get your rest, do not get discouraged. Your bodies may b tired & cold, but your minds r strong & determined. Just take your time & focus. Jacquie believes in u just like u believed in her. She is there 2 help u when u need it..just ask. God is w/u all. Love Mom
---
Mom/Aunt Sheryl - 2/25/2011
For: Ang and TJ
Hi guys! Hope your day went well and you are finding climbing both challenging and inspiring! Matt just said the funniest thing to me...he said that we should climb next year. I almost wet my pants!!! Yeah right!! So when you think about giving up think about all of us back home who want to climb but are too old and out of shape to even think about attempting something like this! So climb for us!! We love you both!
---
Danielle, Matt and Olivia - 2/25/2011
For: Angela & TJ
How are you both doing today? I've been thinking about you and how difficult it must be getting. Keep believing that you can do it, and you will. Can't wait for the next update. Take care, Love Aunt Dee
---
Aunt Dee - 2/25/2011
For: Jane and Joan
Jane, Feel better! Our thoughts are with you. xo
---
MLN DZ EM AUGY - 2/25/2011
For: Myra
YOU CAN DO THIS! Whenever I'm mentally and physically fatigued or challenged, I think of a plaque that reminds me to kick myself in the behind and keep going. "Whatever your mind can conceive and believe, it will achieve. Dream great dreams and make them come true. Do it now...Never affirm self-limitations...The greatest mistake is giving up. Success is an attitude. Get yours right...It is amazing how short a time it takes for very wonderful things to happen. Now it is up to you to just
---
Noeleen - 2/25/2011
For: The Entire Gang
I remember the Lava Tour day - it's a long day but you guys are awesome. Remember that big things happen when you 1. take baby steps 2. rely on your team 3. focus on the day to day journey and not the destination God will do the rest. Sleep well, YOU CAN DO THIS!!!
---
Ginny Kili '10er - 2/25/2011
For: MYRA
Hey girl...when you feel you can't, you KNOW you can! Don't forget...you're the girl who scuba dived in the Great Barrier Reef and you don't even swim (that is a classic Myra story)! You're amazing...keep on pushing. You can do this! Big hugs...
---
TARA - 2/25/2011
For: Myra
Hope you are feeling much better by the time you get this message. I am impressed by your fortitude! And to think, I couldn't even bring myself to get on the treadmill last night. Stay strong - lots of people are pulling for you!
---
Kim - 2/25/2011
For: MYRA
Don't push yourself too hard or too fast. You'll get there, Myra. C'mon you finished a marathon and Kellogg (hello!)and I can't even run two blocks to get myself a donut nor finish this messag....oh, look a bird!
---
May - 2/25/2011
For: Lise
The lava tower! Your almost to the top!!! Everyone at home is cheering you on and were all raving to hear whats happening. Keep going your almost there.
---
garret - 2/25/2011
For: Kevin and the group
Hope everyone starts to feel better soon. You can all do it and should not doubt yourselves. You are special people doing a wonderful thing. Bless you all.
---
Jennifer - 2/25/2011
For: Valerie
I haven't heard any news about you today. Hope that means you are ok in high altitude..I am sure you can do it. I couldn't tell if you are in the picture. I can't wait to hear to more updates.
---
Madura - 2/25/2011
For: Lise
You are on our minds constantly, Garret asks what I think you are doing in a given moment at least 5 times a day. Your crew is proud of you! Sending more love than you can shake a stick at. -B
---
Bianca - 2/25/2011
For: Lise
Hi Mom, hope that you are doing ok with the altitude, sounds like today was a challenging day. Good thing you are always up for a challenge! Things here are the same as ever...just found Charlie in the kitchen trying to "cook" with some eggs. Only thing is, he wasn't pretending with the eggs. Quite a little mess! In a moment of insanity, Chris made the boys giant foam swords which were banned about 10 mminutes after they were given. I'm sure you can imagine the scene. You are on our mi
---
Bianca - 2/25/2011
For: Myra
Myra....hope you had a restful night and that you are getting acclimated to the altitude. We're so very proud of you for taking on this inspirational journey. Keep strong and stay safe!!!...when Aubrey (4 yo)is struggling through something she says..."ith's complicated!" and smiles w/ those dimples of hers! Keep your eyes on the prize and take all the beauty in! Sending you and the group love and prayers!!!
---
Marlyne - 2/25/2011
For: Kevin
HI Hope all is well' I so admire you and all you have done w/your prayers for Mom. Please know that we are w/you in spirit May you all stay healthy and safe on your jounery return w/some great pics. Love ya
---
Olga & Sharon - 2/25/2011
For: Angela
Ok...Angela, I'm thinking that not hearing anything about you is good-(you know the "no news is good news" thing)! Either that or u've hit another tree & they just gave up on u & left u there! I hope not because I really can't keep 3 dogs!! ha ha ha--Seriously, I'm sending all my love & hope that all of u stay healthy & safe. Hugs & Kisses, Mom
---
Your Mom - 2/25/2011
For: Lil Wood
Hey Lil Wood hope you're doing well and having a great time!!! Good luck and i wanna hear some stories when you come back!!!
---
Big Wood - 2/25/2011
For: Myra
Myra...hopefully, you are sleeping well while recovering from getting altitude sickness. I think you are an amazing person and am happy to know that despite the many challenges you encounter, you continue to forge on. Keeping your eyes on the prize is one of the best qualities I admire about you ;-) I'll pray that you and your group stay safe and healthy! All my love! Beth
---
Beth - 2/25/2011
For: Joan
I'm trying to imagine all this, but simply cannot. I admire you both so much! I've talked with Dick a few times--snowing here in bushels today. Take care, Hi to Jane. Hope all is okay for you both.
---
Pat - 2/25/2011
For: Myra
So sorry to hear you got sick there. Nonetheless, I know you are giving all the best you got. Hang in there! We are still so proud of you. My co-worker is interested to hear more about your inspiring journey! I pray for your strength and healing! May God be with all of you guys as you reach your goal for a very great cause! Take care and be careful and safe at all times! We can't wait to hear all about this wonderful journey!
---
Carolyn - 2/25/2011
For: Myra
Hey there Myra! I know you are staying strong and keeping pace. You can do this!!!! You're doing a wonderful job and just think of how awesome the view will be once you reach the top! Keep it up and take it one step at a time! We will all need to celebrate when you're back in town!!
---
Michele - 2/25/2011
For: Jane
Jane, sorry to hear that today was a hard one for you. I imagine you will regroup and struggle ahead. I admire you so much for all this. Take care. Prayers from the nuns, who continue to pray for "young Bill's mother." Hello to Joan.
---
Pat - 2/25/2011
For: Myra
Sis, I hope you are feeling better. I'm worried. I'm sending you all my love, support and strength to get through this. You can do it! HERE'S TO YOU: "We choose to go, not because (it is) easy, but because (it is) hard, because that goal will serve to measure and organize the best of our energies and skills, because that challenge is one that we are willing to accept, one we are unwilling to postpone, and one which we intend to win." - John F. Kennedy
---
Gail - 2/25/2011
For: My
Hi My, Sorry to hear you weren't feeling well. Hopefully you will feel better and push through this hurtle. You are doing a great job! So proud of you!!! Continue doing what you do the best, getting the job DONE! We send you lots of hugs from your homeland!! Enjoy Africa for me.
---
Gaby - 2/25/2011
For: Myra
So sorry to hear you had altitude sickness today! I'm sure they're taking good care of you, but be careful. Can't control altitude sickness, so pole, pole! You're tough, I know you can do this. Keep it up, all the pain will be worth it when you reach the summit!
---
Rivka - 2/25/2011
For: Jane
Rest up. You can do it. We're thinking of you everyday. - The East Ave'ers
---
Bill, BA, Alexander and Sarah - 2/25/2011
For: To Angela & TJ
Hi guys it sounds like today was a very challenging day. I've been stalking this website waiting for an update! I hope everyone in the group is able to get some rest tonight so you guys will be ready and energized for tomorrows journey. No matter how tough it gets know you can do this - one step at a time!! Sending lots of love to everyone in the group!! You can do this!! Love Katie
---
From Katie - 2/25/2011
For: myra and Ivan
Myra... I know you are a trooper! Get your rest and come out blazin'. I just purchased anti-microbial underwear in honor of you both. I am so proud of you both and miss you guys:)
---
Joanne - 2/25/2011
For: Myra
Myra, we are so proud of you! You are doing an amazing thing. Hope the altitude sickness passes soon!
---
Anh and Bill - 2/25/2011
For: tj & angela
hi there you two, we are following the updates and hanging on every word...what an adventure. take it all in. if nature were not beautiful, it would not be worth knowing, and if nature were not worth knowing, life would not be worth living.- henri poincari
---
aunt val - 2/25/2011
For: Myra
Hoping you feel better & wishing you well! You are such an inspiration!
---
Michelle - 2/25/2011
For: Myra and Ivan
Myra - Hang in there! Hope you're feeling better and will come back strong tomorrow. Ivan - don't go wandering off! Very proud of you both!!!!!
---
Dennie - 2/25/2011
For: Myra
Hey Myra, hang in there my friend. I know you can dig deep and make this one of the best adventures of your life. You can do it!!!!! I'm on vacation next week so this will probably be my last post. I can't wait to hear about this life changing time. Susan R.
---
Susan R. - 2/25/2011
For: TJ and Angela
"When push comes to shove, you taste what you're made of. You might bend till you break cause it's all you can take. On your knees you look up, decide you've had enough. You get mad, you get strong, wipe your hands, shake it off, then you STAND." I'm singing for all of you! God bless and good luck! Say hi to Jax at the top for me.
---
Casey - 2/25/2011
For: TJ and Angela too
Still cheering you on from Albuquerque!! Stay strong and keep believing!! We all believe in YOU.
---
Sara in Albuquerque - 2/25/2011
For: Kon
Hello from a sewhere in CT on a bus to Boston, engaged in an epic battle for the arm rest! It sounds like the climb is becoming challenging, but I know you can do it! I hope you (and everyone else) are staying warm and adjusting to the altitude well. I'm cheering for you all!! And Kon, I love you very much and I'm so proud of you. You inspire me everyday.
---
Megan - 2/25/2011
For: TJ & Angela
Sounds like things are going awesome! We are getting the spot updates, it is the coolest thing to be able to see exactly where you all are. Keep climbing, there's a boatload of people back here that BELIEVE in each and every one of you!
---
Kristen - 2/25/2011
For: Jane, Joan
Type your message Jane, Glad to see you're pressing on. Hopefully Joan is right behind you. It would be great to know how she's doing.
---
Dick - 2/25/2011
For: Angela & TJ
Yes,we have recieved TJ's signals! Looks like he's moving in the right direction! How r u doing Angela..I'm worried, haven't heard anything about u. How r u handling the altitude? (Sorry for the questions, but I'm your mom & on the "need to know" list). TJ u sounded so strong yesterday. How r u doing after the long day today? Please let me know. I can't tell if either of u r in the picture that just came over. Sending all my love & strength...Mom
---
Mom/Aunt Sheryl - 2/25/2011
For: Myra
Myra...hope your altitude issues are getting better. Keep pushing through. You know you have lots of support in Chicago.
---
Emily - 2/25/2011
No more comments are allowed at this time.