Viewing Post for: 2011 Kilimanjaro Climb for Cancer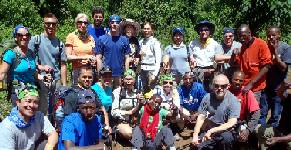 Date: February 22, 2011
Location: Mti Mkubwa, Big tree camp, 9500
Almost a serious injury today. Angela walked into a tree. Nose looking cute. Earlier Kevin was attacked by a pack in the bus. No worries though, we are now safely ensconced in in our dining tent eating popcorn and drinking tea. The ladies are already making plans for doing their nails tomorrow. The group is forming well. There is a significant amount of teasing going on already. Valerie is glad not to have to wear Rick's and Kon's underwear, her bag arrived at midnight. Great 8 hour hike we did in 3 hrs, we are heroes. Drive in was the highlight of the day. Serious 4 wheel driving producing some head hits on the roof. Don't worry at home. We very safe.
---
Messages for this post
For: Ernani & Noel
Congrats, you are our heroes. Stay safe and come back home soon.
---
Yas, Rich , Candice and Rachel - 2/28/2011
For: Angela & TJ
SOUNDS LIKE YOU GUYS ARE ON A GREAT ADVENTURE. WE WISH YOU ALL THE STRENGTH AND COURAGE TO REACH YOUR GOAL. IT'S FUN READING YOUR POSTS AND EVEN LISTENING ABOUT YOUR CLIMB. ENJOY!!!
---
Mark-Delacy Ford - 2/26/2011
For: ANG&TJ
HEYUGUYS GLAD TO SEE UR DOING GREAT,ANG DONT EAT ANY MORE TREES TOO MUCH FIBER! SAY HI TO JAX SHE WILL BE WAITING AT THE TOP FOR U GUYS KEEP GOING,PROUD OF BOTH OF U LOVE YA
---
DAD/UNCLEJIM - 2/24/2011
For: Valerie
I was picturing in my head what you did when you realized you bags didn't come with you.. Hehe.. It was entertaining..Glad everything came though. I certainly can't see you taking well not having change of clothes when you were already worried about having curly hair and dirty nails .
---
Madua - 2/23/2011
For: Kon
Hi, Kon! We hope you're enjoying yourself and faring well. We're eager to see you and hear all about your trip. Megan has been keeping us updated and it sounds like you're having a great time! Stay safe and God bless.
---
The Kendalls - 2/23/2011
For: Angela
How awesome is it that I can see how everything is going all the way from Africa..Your little tree incident literally had me LMAO!!!! You know that would totally be me...I hope your doing great (I'm sure you are)...I look forward to reading your posts...Talk to you soon!!! Love you!! Give TJ my love X0XO
---
Dutch Master Flex - 2/23/2011
For: Angela & TJ & new friends
As your day is coming to an end...I hope you had a successful day of travel, with no underwear, tree, or nail polish issues! Sleep well tonight, you all deserve it. Looking forward to the next post & picture. With all our love from home, Mom/Aunt Sheryl P.S. Dakota says not to worry about her, she is having a great time at Mimi's with all her cousins!!
---
Mom/Aunt Sheryl - 2/23/2011
For: TJ & Angela
You should be at Shira 1 camp as I write. It sounds so beautiful and inspiring. Live in the moment and enjoy the experience and new friends. No worries for your business TJ under control. Shelby says hi. Love you both - onward & upward :)
---
Dad/U. Torey - 2/23/2011
For: To Angela &TJ
Hi guys just wanted to say hello. I was checking to see if there was another update but nothing yet so I will check back later today. I hope everything is going well, just remember you can do this, no matter how difficult the journey is you have your guardian angel with you every step of the way!! xoxoxo, Katie
---
From Katie - 2/23/2011
For: All
Your journey is touching the lives of many. Thank you from all of us at the American Cancer Society. On a personal note, Lise you go girl! I am so proud of you and honored to know you :) All the best!
---
Michele Luisi - 2/23/2011
For: Joan, Jane
I'm with Sue Davin..........which is where I would be!
---
Pat - 2/23/2011
For: Lise
It was great to see your photo, that and following the map makes it easier to picture you there and having a fantastic time. More snow for us here, what's new? Hope you are sleeping well and taking lots of pics!
---
Marilyn & Charlie - 2/23/2011
For: Kon
Hey!. Glad to follow your progress. Be nice to the Mounting. Have fun.
---
Dad - 2/23/2011
For: TJ and Angela
Good morning,(afternoon for you guys)! Hope your climb is going well, and no more trees in the way.The sun is out here,I hope you have sunshine and not too hot. To the whole group-you are amazing, what you are doing is incredible and we are so proud of you! Keep reaching for top, it's where you belong! We miss and love you so very much. Stay safe, be careful, see you in 10 days! Love mom/AS
---
mom/Aunt Sharon - 2/23/2011
For: To Jane
Hi Jane, thinking of you, wondering where you are at the moment. Proud of you for every step you make. Be safe and enjoy! Sus
---
From susan - 2/23/2011
For: Kevin
Awsome! Stay safe. Take pictures. Miss our talks at 6! Attacked by a "Pack??" WTF?
---
Donna - 2/23/2011
For: Myra
What a great journey! Be safe sand have a blast!
---
marlyne - 2/23/2011
For: Lise
Lise, Wed. 5AM here. I guess your on your way to Shira Camp 1. The views must be extraordinary as you climb! Savour the moments and store the memories. Can't wait to hear them. Regards, Pete
---
Pete - 2/23/2011
For: To Angela and TJ
Hahaha only you Ang!!! I hope your nose is ok! I'm glad you guys are doing well. I hope you are having an amazing time. stay safe and enjoy every minute of this. Dakota says hi mommy we're going to have a sleepover with her, myself bella and kerri this week.. girls night!! xoxoxo love you both Love, Katie
---
From Katie - 2/23/2011
For: Angela and TJ
Really Ang? I love you to death, I really do...but why am I not surprised that the 1st injury happened to you? You gotta be more careful! Those trees always get you...remember the tree that came outta nowhere when you were skiing and you needed stitches? TJ, help her out! Hope your nose is ok and you and the rest of the climbers are all doing well! Have fun! Love you both! Thinking about you non-stop! xoxo PS. You don't even know what you're missing on GH right now! Hurry home...safely of cours
---
Kerri - 2/23/2011
For: TJ and Angela
Hi you two! Sounds like you are doing well and are off to a great start. Angela, sorry about the tree, hope it doesn't hurt too bad. (I guess TJ is watching your back and should have been watching your front!)Stay safe,healthy,warm and dry. Remember-we love you so much. Love mom/Aunt Sharon
---
mom/Aunt Sharon - 2/23/2011
For: Ernani and Noel
Hi Ernani and Noel! You guys look great! hope all is well. Take care of yourselves and be safe. We needed your help with math, but we muddled through somehow! Have a great time! We love you!
---
Sarah, Amina and Lola - 2/22/2011
For: TJ and Kon
It's cute how Megan and Lindsey's messages are right next to each other. You both have some wonderful ladies at home! Hope you're both doing well and enjoying the trek. Tomorrow will be a great day for you. Day three is cake! I wish you warm weather and no rain!! Love, Sadie
---
Sadie - 2/22/2011
For: Angela
You'll be so glad you painted your nails! Seriously! You should really stop running into things. Don't worry - there aren't trees for you to run into as you get higher. But you guys are probably hearing these messages from camp two so you know that - you're already above the treeline! Wasn't that the best lunch you've ever had in your life? Thinking of you guys! Hope camp two isn't too dusty for ya! Love to you and TJ! Love, Sadie
---
Sadie - 2/22/2011
For: Myra
What a great adventure. Enjoy it and be safe out there.
---
Amado - 2/22/2011
For: Noel Sadural
Hi daddy, I miss you very much. I hope that your journey climbing the mountain will be safe. I know that it will be tough, but I know that you and Uncle Ernani will make it to the top in victory!!!!!!!!!! :-) Love you!!
---
Allison - 2/22/2011
For: Kevin/Dad
Hey Dad, glad to see you've made it! Hope you're having a blast. STAY SAFE! Love, Kel
---
Kelly - 2/22/2011
For: Lise
Dear Lise, Wishing I were there, but waaaay toooooo many inhibitions! Thinking of you and praying for your safe journey. God bless and Godspeed, my friend. Later.
---
Cheryl - 2/22/2011
For: To Angela
A tree? Really? You crack me up sissy!!!!Love you!
---
From Danielle - 2/22/2011
For: TJ and Angela
I can't believe what you are doing for cancer research - must be the first time I know of that someone walked into a tree for the cause!! Seriously, take care, keep well, and have fun. I am off to seeing patients in the morning and just wanted to know how inspired I am by you guys. EW
---
Dr Wang - 2/22/2011
For: Lise
Hey Lis, Miss you. Have a great time! Love, Vince
---
Vince - 2/22/2011
For: Valerie
Valerie, we miss you. We are glad that you didn't have to wear someone's underwear. However, we are sure it wouldn't stop you. We are still waiting for pictures from the summit:). BTW, Yarik asked to remind you about his birthday poster.
---
Natallia - 2/22/2011
For: Lise
Hi Mom, It's so cool to see a picture of all you! Spoke with Mormor and she wants you know that she is doing much better. Chris is recovering with the help of a few icepacks and the cold continues. I can't wait to hear about the amazing sights and experiences, amd most of all, the fantastic people you are meeting. We love you lots and are sending you lots of good mojo!!!! Bianca
---
Bianca - 2/22/2011
For: TJ
Just wanted to say I haven't stopped thinking about you and Ang. It was great to see today's update & it was pretty funny! I can't wait until the next one! Just call me the official pack, paddle, ski stalker. (I am sure I'm not the only one) haha : ) Sending lots & lots of love your way. xoxo Linds
---
Linds - 2/22/2011
For: Kon
Hi! I just wanted to convey an important message: Don't let the girls paint your fingernails pink. You should choose a more masculine color like blue or maroon. I hope you're having fun, I can't wait to hear all about it!! Miss you, love you, and constantly stalking the blog.
---
Megan - 2/22/2011
For: Kevin
What an awesome experience for you and your group. Best of luck and be safe.
---
Bev and Spider - 2/22/2011
For: Valerie
For some reason the missing bag could only happen to you. I think because you love adventure oh so much! I am glad you got everything together though. Good luck tomorrow. Meanwhile I had to calm Emilia down that you are going to be OK in Africa and Barmaley is not going to get you. So please, don't disappoint the child. :) Have fun, we are with you in spirit!
---
Zoya - 2/22/2011
For: All of the AWESOME Kili '11 hikers
Congrats on doing so well so far! I hope you're all having the experience of a lifetime - and continue to! Thank you ALL for everything you've done to support the American Cancer Society!! As you go up the mountain, be proud of making it to where you are and be proud of the wonderful thing you're doing by helping us to provide HOPE to cancer patients and their families. Thank you all for your courage, your tenacity...and heart :)
---
Gerianne at the American Cancer Society - 2/22/2011
For: Ang & TJ
Ang - seriously?! watch those trees! lol. Best of luck on your journey. stay safe, i love you both so much.
---
Moo - 2/22/2011
For: Angela, TJ and all you wacky climbers
Sounds like a great adventure already for all of you. I'm so proud you are all part of the JOI family. Rick and Yusuf will take great care of you (as long as Rick doesn't get sick). Monkeys, zippers and snores are all I can remember from the Big Tree Camp - I hope you got some sleep. A lot more fun and excitement yet to happen. Know that you are all being watched and supported back home. Try to find my watch that I left on the Shira Plateau. Thanks and love to all!
---
Paul Artruc - 2/22/2011
For: Ivan
Hey Nugget! Looks like you're well on your way! Nice work. Just thought we'd say hello and we're thinking about you and laughing - for all the wrong reasons, of course. LOL. Sending you love, Rug. :)
---
maria and rizzo - 2/22/2011
For: Jane and Joanie
Great Job!!!!Where's the cocktail tent??
---
Sue Davin - 2/22/2011
For: dad/kevin
Dad! glad you are ok! be safe out there!
---
cathy - 2/22/2011
For: Angela & TJ
Hey Kids...Sounds like everything is going just as expected! Damn trees, they seem to pop up in all the wrong places. Usually right where you want to step next. I'm glad you're really on your way to your goal. I have no doubts. I love you both and am thinking about you all day long. Take care of each other, all my love...
---
Aunt Deee - 2/22/2011
For: Kevin
This is wonderful to be able to get glimpses into your amazing adventure. Be sure to leave bread crumbs on the way up so you can find your way back! -Tom (brother)
---
Tom - 2/22/2011
For: angela
Just a Quick Hello! Im glad to hear you are having a good time and made it safe. I Miss you Love you! stay safe
---
jeffrey - 2/22/2011
For: To Kevin
this is fantastic to be able to see what is going on UP there. How many were in the PACK that attacked you???...
---
From Jane - 2/22/2011
For: Angela & TJ
Hello to both of you Hope all is going well and wanted you to know that we are thinking about both of you. Next time we will send a EMT with Angela. Hope the nose doesn't look like Jimmy Durante. I hope your feet are doing well in the steel toed boots. Keep us posted and be safe. Tracy & Jennifer
---
Tracy & Jennifer - 2/22/2011
For: Angela & TJ
So glad that Angela is taking care of everyone...now if she'd only watch where she is going, I can sleep tonight with no worries!! I wish you all a great travel day tomorrow--it sounds like you are making great time, but just remember girls, we do slow down when our nail polish is wet! Sleep well, stay safe and remember that Angels are watching over you! Love you very much, look so forward to your post tomorrow!
---
Mom/Aunt Sheryl - 2/22/2011
No more comments are allowed at this time.