Viewing Post for: Everest Base Camp #1 & #2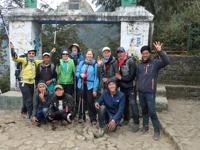 Date: Monday, November 12
Location: Lukla, Yeah!
We have returned to our starting place. All safe. Compare this group shot with the departing shot early in the trip. We look a bit more worn but trail savvy.

Today we stopped for cappucino and bought the porters their first ever. They can not afford coffee products They have worked really hard for us. Young guys, from Nwawang's town. Shy, but carried their loads. It is very cold up high for them. They sleep in communal platforms under many heavy blankets.
Here is an example of the kindness of everyone. Yesterday Jeff left his jacket behind at the lunch resturant. Nwawang called a friend of the owner. They did not find it, Yet the next morning, they looked again. Found it and sent it down the trail to catch us. Such networking and care.
Kindness is one of the things we learn here. I hope each of us can take it home.
We are sponsoring one of Nwawang's kids in a private school. It is less then one thousand per year. That is a boarding school. Government schools are terrible. Sometimes the teachers don't even show. We are also helping Lhakpa rebuild his house so he does not have to climb Everest to earn money. He is 55 and time for him not to do such dangerous work. If you know of anyone who might help with either of these projects, let us know.
Now we have the afternoon in Lukla. A warm shower, the first for some in 2 weeks. Some shopping and an Irish pub. Tonight is a dance party.
Hope for good weather so we can fly to Kathmandu tomorrow.
---
Messages for this post
For: John and Diane
Congratulations! Glad you made it. Instead of mountain climbing I played in a bridge tournament and got my first gold points.
---
Cathy - 11/13/2018
For: All
Congratulation to all with great envy. I am feeling slightly better but just been informed that I have pneumonia so will be starting my antibiotics again. Safe travels, wear a mask on the plane!
---
Mac - 11/13/2018
For: Jeff
Dad this is like your hat story again.
---
Paula - 11/12/2018
For: Jeff
Had lunch with your mom today. Her response to your trip(which she did know you were on) was Jeff went away so Esther could do all the leaf pick and pulling bulbs!! Safe flight
---
Esther - 11/12/2018
No more comments are allowed at this time.