Viewing Post for: Everest Base Camp #1 & #2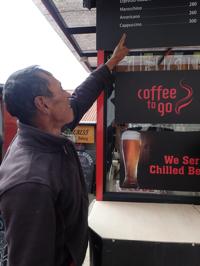 Date: Sunday, November 11
Location: Phakding, 8800 feet. 7 hours of hiking
Down to lots of oxygen! Yeah, much warmer down here...
Stopped in Namche, picture. Cappuccino has gotten to be a joke with Lhapka. Hence the picture. He can't afford to buy it. They drink a local milk tea. Anyway we had our first cappuccino in over a week in the sun no less. Sweet.

Long day of downhill . Most still coughing but nice to be lower. Seems like years ago we left down hill.

Less hikers as the end of the season on trail.

Hoping for a shower tomorrow if the sun is out to heat the solar water heaters when we arrive back in Lukla.
---
Messages for this post
Currently there aren't any messages for this post.
No more comments are allowed at this time.