Viewing Post for: Everest Base Camp #1 & #2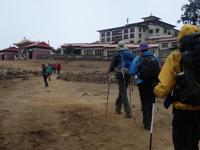 Date: Saturday, November 10
Location: Kyangjuma, 11,500 feet.
Hello out there. Suppose to be an easy day. Consensus, was NOT! 2 hard uphills, kind of did us in. Stopped at Tenboche Monastery. So, today we are doing quotes from everyone:
Joe: "I am humbled, by the people, the spirituality, the majesty"
John: "Spectacular scenery and wonderful culture immersion."
Diane: "Loved meeting the people, "
Jeff: "Views are incredible"
Nancy: "Beautiful scenery"
Rick: "Tough trip, altitude hard on people. Will be a trip all remember forever in many ways"
---
Messages for this post
For: John and Diane
Looks cold where you are! We're enjoying reading your daily updates. Interested in hearing about your trip when you get back.
---
Brother Henry and Niece Mary - 11/10/2018
For: Jeff
Glad you all are enjoying the people and the beauty. Had our first "white" stuff coming down, didn't last
---
Esther - 11/10/2018
For: Nancy
Mom!! We hope you're doing well. Can't wait to hear all about it. Watching and reading daily! Love, Jon, Eileen, and JonJon
---
Jon, Eileen, and JonJon - 11/10/2018
No more comments are allowed at this time.