Viewing Post for: Everest Base Camp #1 & #2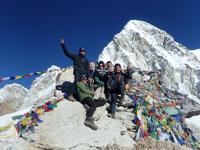 Date: Friday, November 9
Location: Periche, 14,170 feet.
Long and very tough day. But, wow, had 3 of us and 3 Sherpa climb Kala Patar. The view is stunning. You can see from the South Col the whole summit ridge. But not just Everest. You are surrounded by giant peaks of immense beauty. We hung prayer flags from the summit with names of loved ones. Ask you loved one if your name is there.
The climb starts before the sun hits us so very, very cold. We went slowly and got there in two hours.
From that point it is all down hill toward home. Sort of.
We were all pretty well hammered from the altitude. Plus the Khumbu cough is going around....
We got to Periche in the dark. And it was cold. But we made it.
Hopefully the lower altitude will help us heal.
Jan, thanks for the update on Mack, we miss. Sorry he had to go home.
---
Messages for this post
For: Nancy Stock
Hi Mom! We're so proud of you. It sounds like you're having an amazing experience! What an adventure! We're bragging to all of our friends about you. We're excited to see you here for Thanksgiving. Plus, we're only at 1,000 feet--and we still have highs in the 60s! Love, Kate, Rosie, and Nathan
---
Kate, Rosie and Nathan - 11/9/2018
For: Nancy
Hey ma! We hope you're well!! We're very excited for you and to hear from You soon as well. We are thinking of you and love you very much Jon, Eileen and JonJon
---
Jon, Eileen, and JonJon - 11/9/2018
For: Nancy
Nancy, You apparently got close to base camp but not quite? What happened? Heading out to Allison's wedding soon. Love you and so proud of your accomplishment! Good luck to all and congratulations! Bill
---
Keeper of the home fires - 11/9/2018
No more comments are allowed at this time.