Viewing Post for: Everest Base Camp #1 & #2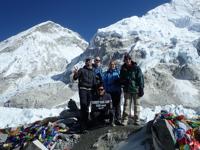 Date: Thursday, November 8
Location: orak Shep. 17,000 feet and Everest Base Camp! 17.400 feet.
Yes, check out the picture. Joe not there as he stayed behind in Laboche, a bit under the weather but healing.
Nancy made it to Gorak Shep and stayed there while we hiked to base camp.
The rest of us hiked two hours to base camp in another stunning blue sky day! The altitude really sucked at our energy.
Base camp is a bit anti-climatic. It is just rocks on a glacier. There are only tents there in climbing season which is spring. But the scenery is beyond anything one could imagine.
Walking back to the lodge is kind of like in a dream. After all the hopes and planning, to finally arrive, but still the journey is not over as we struggle with the altitude...
At the moment, rest is needed. And time to reflect on where we are so can absorb it before we head down tomorrow.
Before we head down, some of us will climb in the freezing temperatures up Kala Patar. Look for pics tomorrow.
---
Messages for this post
For: Nancy
Wowww!!! Top of the world ma!! We love you!
---
Jon, Eileen, and JonJon - 11/9/2018
For: Jeff
Good job dad!
---
Paula - 11/8/2018
For: All of you
Congrats!!!!so proud you made it for the team!!!! Yippee!!!
---
Joe - 11/8/2018
For: Jeff
Outstanding, been following the trek looks like you really hit the sweet spot for weather.
---
John - 11/8/2018
For: jeff
Congratulations!!!!!
---
esther - 11/8/2018
No more comments are allowed at this time.