Viewing Post for: Everest Base Camp #1 & #2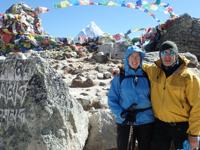 Date: Wednesday, November 7
Location: Laboche, 16.200 feet.
Well it is real now. We are one day away from base camp. We can see the end of the valley. The mountains are hard to describe. Today was a perfect weather day. Such a deep blue sky! All day so it was even a bit warm. If you call a few jackets and hats a bit warm.
The picture is the pass where all the chortens, memorials are. We found Rob Hall, Alex Lowe, Scott Fisher. All who wanted to climb Everest passed this same place. Some now only have memorials. Very intense place. Some are getting colds, some feeling the altitude. But I think we will all make base camp. There are less people than last trip but still very busy. Sky has been clearer. We got here about 2 pm so lots of time to drink tea and rest. Being successful is a lot about resting and getting used to the altitude. Send you pic of base camp hopefully tomorrow.
---
Messages for this post
For: All
Mac has arrived home safe and sound, having had very good treatment from everyone on the way, Wheel chair, first on first off, and even a horse evac. Hope you day is all you anticipated and more. The McInnes Family.
---
Jan - 11/8/2018
For: Rick
Hey Rick. So amazing to hear your voice. It felt like you were next door. Wish all strength to make base camp. Signed the long distance doc
---
Esther - 11/7/2018
For: Joe
Wow what a great picture with the peak behind you! So exciting that you'll be at base camp tomorrow!!! You've worked so hard for this..so proud of you Joe!!
---
Mark - 11/7/2018
For: Nancy
Hi Mom!! 16,000 ft!!! Wow! We're inoressed you're so high! You will have to tell me all about it when you get home. We love you. JonJon wants to FaceTime w you. Eileen says hello too always. We love you and continue to be inpressed. Love, Jon, Eileen, and JonJon
---
Jon, Eileen, and JonJon - 11/7/2018
No more comments are allowed at this time.