Viewing Post for: Everest Base Camp #1 & #2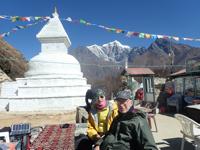 Date: Sunday, November 4
Location: Phortse, 12,500 feet. 2 PM arrival.
We had a nice very slow walk today. As you can see the views up the valley were spectacular. Every where you look there are high peaks, so sheer, so high, reaching...
The highlight of the day was a surprise visit to Lhakpa's house. Lhakpa is with Mack in Lukla. But his wife and daughter-in-law were home and invited us in for tea! They did not speak english but his wife knew who I was as i had been there many times over the years, helped support the kids in school, been to see the Dalai Lama in India and other family involvement.
Despite not knowing we were coming, they boiled potatoes, a traditional sherpa snack and made fresh chili sauce.
Everyone was deeply touched by the experience. So amazing to be invited in.
This trip is about so much more then Everest.
---
Messages for this post
For: Nancy
Hi mom. Nathan just left this morning he had come for a visit and a conference. We had a nice time catching up. We are thinking of you often and daily mom. We are so happy for you and proud of what you're doing. We hope you're having the time of your life.
---
Jon, Eileen, and JonJon - 11/5/2018
For: Jeff
Notre dame beat northwestern. Also went to aquarium and market.
---
Paula - 11/4/2018
For: Jeff
Paula and I did a hike near Cleveland to see fall leaves. Beautiful. We found 2 great gluten free restaurants here. Jeff I am leaving our leaves for you to rake when you get back.
---
Esther - 11/4/2018
For: Joe
Wow...looks so amazing!!! You must be in your glory with the scenery all around you! Enjoy trekking along and climbing even higher...so exciting! Sending you all the positive vibes and best wishes ... my mountain man! ;)
---
Mark - 11/4/2018
No more comments are allowed at this time.