Viewing Post for: Everest Base Camp #1 & #2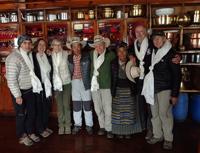 Date: Saturday, November 3
Location: Kumchung, 12,500 feet...
Slow hike uphill to Kumchung. But, we rounded a corner by a tea house, and....There was Ama Dablam. Wow, such a beautiful mountain. We sat to have tea. And to watch the close disclose Everest behind in very brief glimpses through a veil of clouds.
But the highlight of the day was a visit to my long time Sherpa friend's Kami's house. His wife Doma made us a very local dinner. Homemade potato pancakes with homemade yak cheese. A huge plate of potatoes and other local veggies with and egg on top. Topped off by my favorite hot pepper sauce they make....
His house is like a Sherpa museum. Complete with temple maybe hundreds of years old. The highlight in the temple is the reverence with which he opens ancient transcripts.
We experienced a timelessness today, that is fleeting in our modern world and soon will be gone.
---
Messages for this post
For: Joe
Hi Joe, I understand that someone from the group already had to stop. Wish the best of all circumstances for you and the other group members. I think I spot you on this photo on the left side. But I am not sure because it is a VERY small picture. Good luck, close the circle around your Mount! Xoxo Eric
---
Eric - 11/4/2018
For: Jeff
I remember Kami. Wondeful person. Beautiful area. Enjoy
---
Esther - 11/3/2018
No more comments are allowed at this time.