Viewing Post for: Everest Base Camp #1 & #2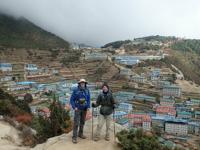 Date: Friday, November 2
Location: Namche again.
First great view of Everest today! Big day. Great clear skies. Stayed for over half an hour taking pictures... fantastic and now each day will bring us closer.
Mack went to the medical clinic. He is okay, but better he start heading down tomorrow. So he will head out with Sherpa and porter. Serious business up here and best to be safe.
We spent the afternoon on a 2 hour walk up valley. We followed a family leaving the local market. The very cute 10 year old girl chasing the yaks and interacting with us. The family was carrying packs and table they bought. Other ancient Tibetan, Sherpa ladies in colorful clothing and deep weathered faces greeted us. Amazing experience of immersion.
Nice time in the afternoon to sample the local bakeries, get a shower and nap...
We get nice long sleeping time as not much to do after dinner.
Tomorrow we go higher, we will be having lunch at the house of an old Sherpa friend. Looking forward to telling you more about that tomorrow.
---
Messages for this post
For: Jeff
Mom just got here for a visit. She was excited to see you on the other side of the camera.
---
Paula and esther - 11/2/2018
For: Group
have fun at Namche, take in all there is to see and do in what seems like the middle of nowhere! Stay hydrated and in good spirits. One foot in front of the other. Nobody ever said it was easy, they just said it was worth it. Enjoy the views. Stay safe and warm, no need to stay clean!
---
TJ & Torey - 11/2/2018
No more comments are allowed at this time.