Viewing Post for: Everest Base Camp #1 & #2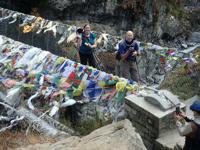 Date: Thursday, November 1
Location: Namche, 11,500. 4 pm arrival.
Had to put up picture of the famous swinging bridge. It is 300 feet above the river.
People did great getting up here. First big climb at altitude. Cooler up here.
We can go shopping, coffee shops, movies....all brought in by yam trains a d people's backs.
People are debating showers at moment over tea. Some say yes, say say no for today.
Mack is doing better. 2 nights here to acclimatize.
---
Messages for this post
For: Nancy
We're stjll following along and love you ma!!
---
Jon, Eileen, and JonJon - 11/2/2018
For: Mac
Glad you are feeling better. Take Care. Don't over do it. Rob did a Trinity Knot today. Love from us both.
---
Jai and Rob - 11/1/2018
For: Harry
Hey Brother - looks like you are having a great adventure. Stay safe and look forward to hearing all the stories!!!! Peter PS: I would choose the shower over tea!
---
Peter - 11/1/2018
No more comments are allowed at this time.