Viewing Post for: Everest Base Camp #1 & #2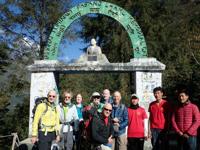 Date: Wednesday, October 31st
Location: Over the swinging bridge at Phakding
8500 feet, 3 hours of walking
Yes! We area on the trek! Great weather, we were on the first plane, we boarded before sunrise at 6 am. Incredible time! Fantastic clear skies, so great views.
We were in no hurry as we only had 3 hours of walking. So we stopped often including some great coffee.
Mack was feeling a bit under the weather but toughed it out. I think he will be better tomorrow. He is tough. The rest of us all walked easily and slowly. A highlight was the swinging bridges, come back tomorrow and we will show you a great one!
There is a super tough inaugural 135 mile running race going on. Just after we got to the lodge the first runner struggled by. Exhausted.
Rooms are quite basic, These ones have large rooms and good views. A bathroom is down the hallway.
Now it is tea time and dinner a bit later. Sun has ducked behind the ridge.
It went from jackets hats and gloves to short sleeve shirts today.
The picture is from the exit at the start of the trail in Lukla, watch how each day we get dirtier.
---
Messages for this post
For: Joe
Glad to hear you are doing well. Will follow you and look forward to the stories once you return.
---
Toni and Jay - 11/3/2018
For: Mac
Hope you are feeling better. Drink lots of liquids. Remember the Socks. Love Me
---
Jai and Rob - 10/31/2018
For: Jeff
Oh how I remember the flight to Lukla. I clearly remember the beginning/end of the walkway to start the trek. ENJOY everyone. Did Jeff actually drink coffee??
---
Esther - 10/31/2018
For: Nancy Stock
Hi Mom! So excited that you finally made it to Nepal!! We're thinking of you back here in SC. Love, Nathan, Kate and Rosie
---
Nathan - 10/31/2018
For: Joe
Hey Joe! So glad you made it safely and are already trekking away!!! I'm sure you're having a blast and enjoying every moment!! Love the posted pictures, can't wait to see more!! Have fun my mountain man!! ;-)
---
Mark - 10/31/2018
No more comments are allowed at this time.