Viewing Post for: Everest Base Camp #1 & #2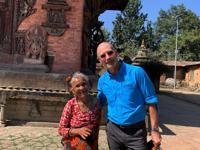 Date: Tuesday, October 30
Location: Kathmandu, Bhaktipur
Tour day again. Visited a temple high over the Kathmandu. Lots of building destroyed by earthquake. Ancient place. Ancient people. Rice fields. Rice drying. Terraces. Carved windows of intricate figures.
Next to one of the ancient walled cities. Bhaktipur. Wondered the ancient streets. Big square of pagoda style carved temples. Many vendors. Ate lunch up high to watch the people below. Hand thrown pottery. Learned about the different dolls. Pasmina, cashmina, yam wool. Some of you are getting a shawl. Not saying who.
Back, sleepy. Need to pack for 4 am rising time. First plane to Lukla hopefully in the am. The trek begins.
---
Messages for this post
Currently there aren't any messages for this post.
No more comments are allowed at this time.