Viewing Post for: Everest Base Camp #1 & #2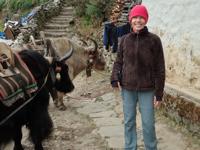 Date: Friday, October 12
Location: Namche again. Rest day.
Sweet day to explore, got up for a warm breakfast. We were hoping to see Everest from a view point but the clouds were low. So, we chilled drinking tea and then went town exploring. By then the morning jam had cleared.
We started at a Buddhist Monastery above the hotel. We spun prayers and soaked in the ambiance. On the way out we met the last remaining alive Sherpa member of Sir Edmund Hillary's Everest summit team. The place abounds with people who have climbed Everest.
We circled above town to a Sherpa Museum. It was really intriguing and enlightening to see the history of all the sherpas who have climbed Everest. It helped us have a different view of the world which is so often more American centered.
The day stayed cloudy and cool. Good chance to get sense of how the weather may be very chilly in the days to come.
Afternoon was spent finding pizza, coffee or bakeries. A few shopped a bit, real citified we were.
Thanks for all the blog notes. People are enjoying feeling connected to you at home.
The picture is Marlene who is fascinated by all things yak, yak butter, yak transport, yak meat...
---
Messages for this post
For: Mike
The trip sounds great so far. Wishing you all good weather, healthy travels and an awesome adventure. Will be following the posts. Best of luck to all.
---
Brother Vince - 10/12/2018
For: Torey & TJ
First song I heard on the ratio this morning was "Dancing Queen", now as I'm writing this, "Don't Stop Believing" is playing. Boy oh boy, Jax sure knows how to get my attention! Please take care of yourselves and each other, and know that we are all here cheering you on! love you so much! Aunt Deee
---
Aunt Deee - 10/12/2018
For: Harry
By people Marianne means Shannon! Glad you had a day of rest - looks like a long trek tomorrow. The Sherpa museum sounds interesting. Take lots of photos! Be careful - stay safe and strong. Love having the blog to hear what you are doing!
---
Shannon - 10/12/2018
For: Torey & TJ
Let me guess..."a few shopped a bit" were Torey and TJ!??? I can only imagine how excited Torey is if there is shopping! Hopefully there is no weight limit on the way home! HAHA! Hope you are having an amazing time, stay safe and warm. Always remember that "the the best is yet to come". Love you both--Sheryl
---
Sheryl - 10/12/2018
For: Harry
I had no idea you would be going through towns on your journey. I do hope you are remembering who your friends are at home as you go through the shops!! Seriously, it sounds like you have lots of opportunities for culture immersion in addition to the character building opportunities as you put one foot in front of the other and make it to base camp. I am looking forward to your photo presentation when you return.
---
Marianne - 10/12/2018
For: TJ & Torey
A few very important updates for you guys: TJ, WE FINISHED HALF THE FILING. Like actually finished it. Torey, we spent Thursday night eating and drinking all of the wings, fries, and Blue Lights Duff's had to offer - THANK YOU! I know you guys have probably been preoccupied wondering about these things so, you're welcome. :) Sounds like it has been amazing, stay safe and warm, we miss you but can't wait to hear all the stories still to come. Bring me back something French!
---
Fahn - 10/12/2018
For: TJ and Torey
Good night to you!Glad to hear you had a slower day today with time to explore and see some sights.Last night at the Ride For Roswell Awards I spoke with Adam Benigini.He said to wish you well and to have you send pix of the two of you on the trails and a pix of Everest.He will do a shout out for you after one of his sportscasts.Yea!We are holding everything together here at the gym,nothing major happening,which is a good thing.Safe travels,we miss you and love you.Sharon and Forever Jacquie
---
Sharon - 10/12/2018
For: Marlene
Marlene are you fascinated about all things about yak ? I am not surprised, stay safe with them ! Congratulation to the man who takes this picture ! Attention au grand froid qui va arriver mais je sais que tu es capable de surmonter tous les climats. Take care. Je t'embrasse très fort
---
Jean-Claude - 10/12/2018
For: Rick
Rick Is the young girl we met in 2014 Laxme(sp) around?
---
Kevin Hoehn - 10/12/2018
No more comments are allowed at this time.