Viewing Post for: Inca Trail 2018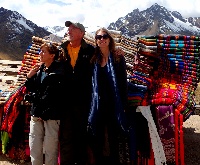 Date: Wednesday, August 1
Location: Punk, Lake Titicaca, 12,500 feet. Highest navigable lake in the world.
Bus day.
First, thanks for those who are writing. Yes, Flo and Karen got their bags. But not until we got back to Cusco.
Next, yes we did try guinea pig last night. Not too popular a flavor. Great restaurant that included a local band and and dancing. Some of us were invited to dance with the family dressed dancers. Tom focused on his guinea pig.
It is about 10 hours by private bus to Puno. There are a number of interesting stops on the way. We stopped at a huge city site from 500 to 1100 ad of pre Incan people. Very impressive archeological place. Then to the Cistene Chapel of the Andes. Amazing paintings from the late 1500s.
Onward and upward to the altiplano of 14,000 feet and above. There people still raise llama and alpaca. Alpaca by the way is quite tasty. This vast grass land extends through much of the Andes. In the background are fabulous gladiator peaks.
After our intimate and challenging experience of the Inca Trail, this portion feels different. We are experiencing the variety of cultural opportunities here. Not all Inca.
Tomorrow we go o to Lake Titicaca. We stop at the reed islands and the Uros people before we overnight with families in the middle of the lake on an island.
Stay tuned.
---
Messages for this post
For: Flo and Carroll
Love the posts, pics and observations. When I was in grammar school I learned about Lake Titicaca. Just the name had me rolling on the floor. I marvel at what you are seeing and experiencing. Continue to enjoy your journey.
---
Jill Orbach - 8/2/2018
For: Linda
Wow, you are having too exciting of a time - an Irish pub that high up (did they actually have Guinness?!) And the menu included alpaca, AND guinea pig cuisine! I see I am too late with a post warning against things on the menu to avoid; quwi, jaca, cuy or cuyo. I'll be thinking of you all getting to experience the highest navigable lake in the world as I walk by little Honeoye Lake in upstate New York this morning. Say hello to my favorite cola - Inca Kola. Chausito!
---
Marsha - 8/2/2018
No more comments are allowed at this time.