Viewing Post for: Inca Trail 2018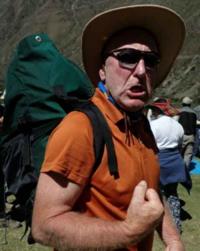 Date: Friday, July 27 again, oops, wrong date yesterday
Location: Llulluchapampa, 12,200 feet.
6 miles. Very sunny Last week there was a snow storm at this campsite. Today, stellar blue sky, llamas, spectacular peaks and glaciers in the distance. This is our high camp. We are camped below Dead Woman Pass. We must ascend tomorrow. 5 am rise into the BELOW freezing temps. To get here we hiked uphill all day. Took a break at a women's house full of guinea pigs in the dirt floor of the kitchen. But for this moment, fabulous views and awesome food. Our porters we call wikee, friend, in their own Incan language of Qeuchua. They line the camp as we arrive and throw their hats up. Then a row of high 5's. The picture is of Tom with one of their 70 lb packs. The group is lovely and very supportive of each other. Many have hiked years together. The others are two families. Very special times for life experiences to share together. Lots of joking, sharing of mutual need with the few items we have. Thanks for following us. It is neat to be able to share this experience with you.
---
Messages for this post
For: Flo
Girl...What an experience you are having! I look forward to hearing the stories when you get back. It looks amazing. I just saw the group shot Paul posted today. Prayers for safe hiking for all of you!
---
Linda P - 7/29/2018
For: Sue, Charlie, Ray and Morgan
It sounds like a fabulous and memorable adventure!! I will keep following you !! Love you and can't wait to hear all about it!!
---
Ceil - 7/29/2018
For: Florence
Looks like you are all having a great time Hope the luggage gets retrieved. Stay safe!
---
JoAnn - 7/29/2018
For: Carlos, Sue, Morgan & Ray
Hope the ascent up Dead Womans Pass went without a hitch. It's all downhill from now on. Soon you will feast your eyes on a wondrous sight....Machu Pichu....I am with you in spirit. Good luck and "keep on trekking" Love you all. XXXOOO
---
Noly - 7/28/2018
For: Matt & Char
Keep it up Mom & Dad!! I am living vicariously through you and these posts. I hope you're taking lots of pictures and staying warm! Dad - be sure not to tell too many bad jokes. I can only imagine you've said "uphill both ways" once or twice by now. Mom - I hope you're getting lots of new food inspiration (but maybe no guinea pig for me). Love ya!
---
Aubrey - 7/28/2018
For: Linda
Guinea Pigs in the house where you took a break? Please tell me they weren't the snack of the day!!! Prayers for safe hiking.
---
Marsha - 7/28/2018
For: Tom
Looking good! All is well here. Love you!
---
Mary - 7/28/2018
No more comments are allowed at this time.