Viewing Post for: Women's Projects in Tanzania 2018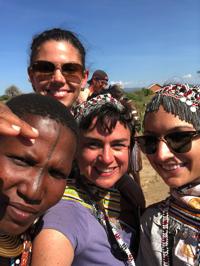 Date: Thursday, May 30, Last day at the projects
Location: Lake Eyasi, Women's houses
Sitting here leaning against one of the women's house's walls we built last year. Lot's of women around in bright dress, many beaded and brass colored necklaces and bracelets. Mostly hanging. Finished last names of the walls for donors. We put the beds we bought into the new houses. Poignant moment. A kid came in with a picture from a magazine of a bed in a room. He compared it to the his new bedroom, looking back and forth. I don't know where he got the pic from. It was like a wish he could not believe.

Slow morning as it takes awhile to catch the goat, kill the goat and cook the goat. We passed the time joining Fatina as she came to her house the first time. Her children and sister in law also came. It was the first time they saw it. They sat inside for their first cup of chai. Stoic at first but then the tears of joy and disbelief came.

While there a mom came with a 6 year old some hearing and sight challenges. One eye would not follow the other. The nurses evaluated her. She would play with my glasses and look kind of cute so people would laugh. She kept asking why people were laughing. I got the sense she was often laughed at. She could not see well so could not find her mom in the room. She is developmentally delayed, hopefully from just hearing and sight issues. If she can see it might be a life changer. We sent her to a nearby clinic to see if they can get her glasses. So much need. Her mom has aids, 5 kids, husband died when in the lake got stuck in mud hyenas ate him.

So, the day at the village ended with a big dance with the tribal ladies in full tribal regalia. Strange to get in a vehicle and be transported so easily toward another world. These people cant afford a motorcycle ride to the local clinic.

We now move toward safari. We will update more tomorrow.
---
Messages for this post
Currently there aren't any messages for this post.
No more comments are allowed at this time.