Viewing Post for: Women's Projects in Tanzania 2018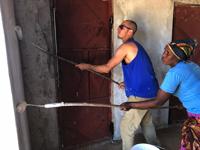 Date: May 23, Wednesday
Location: Lake Eyasi, woman's tribal village
Up before the sunrise for some of us to run. Then dawn yoga session in the lovely, cool wind.

Our first time with the ladies! Wow!

We arrived to 50 people chanting, drumming and waving branches. We jumped out to join the dancing, singing, throwing of leaves as welcome. The large drum was beating a deep rhythm and the ancient old sounds quickly blended the two worlds. The women were dressed in beautiful beaded skirts and headdresses, huge holes in their ears hung beaded ear adornments. Tears came to some of our eyes.

Next we spread out among the 3 new houses we are building. The team quickly was set up along with the local woman with rollers to prime the new houses. 2 of our party joined the ladies preparing a welcome meal in giant pots over a fire.

It is hard to explain the joy we are sharing here. We are reuniting with friends from last year and making new ones. Despite different languages, friendships are being formed. There is certainly lots of laughter.

The late afternoon is spent at the girls school. Each of us have a few students to work with on the computer. It becomes both English lessons and computer lessons. The girls are so smart and learn quickly. They are so enthusiastic. The day ends with a massive game of what starts as soccer, turns into crazy keep away. The players range from age 3 to 25, many wearing skirts and flip flops despite the large amount of thorns.

Stay tuned to who gets the new houses tomorrow.

Rick
---
Messages for this post
For: Megan & Ben
The photo looks like Ben is painting again. Right up his alley. Megan did you get into the soccer game with the school children? Sounds like a wonderful experience. Love you both!
---
Mom Mc - 5/23/2018
No more comments are allowed at this time.