Viewing Post for: Women's Projects in Tanzania 2018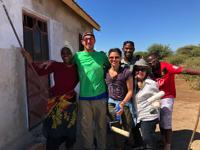 Date: Thursday, May 24
Location: Lake Eyasi, medical clinic, local market for goat and bed
Teresa. Abandoned, 4 kids. No home. She was abused. So she was sleeping with 2 kids on the floor of the school with 2 of them. The other 2 housing with members of the community. You can not imagine her joy as she joined our crew painting her new house. Her children again can stay with her.

Then off to the local market. Placed in the middle of a dusty field laid out on colorful sheets are all kinds of used clothing, shoes and pans and such. But off to the side, under ripped tarps....roast goat. The goats are slaughtered right there. Next they are spread with green twigs and placed on a skewer over the fire. It is served by sticking the stick in the ground in front of the low wooden bench you are sitting on. You are handed a knife to slice and eat. Our companions were local herders in red cloaks, lots of beads and huge drooping earrings through opened lobes of their ears. Wow. Here we bought 3 beds, sheets and a new shirt for the pastor who only owned the one he was wearing.

We made it back to camp in time to work with the girls at the school on the donated computers. The nurses in the group spent the morning at the medical clinic reviewing with the staff there the supplies we brought over. In addition we worked with them on how to use the water treatment system we brought that was donated.

Very full day again...
---
Messages for this post
For: Karen
Is that you on the right of the photograph?? Doing all the things you love and do so well!!
---
Judy - 5/28/2018
For: Meghan, Brian, Ben & Megan
I look forward to reading Rick's daily posts. Amazed at the work being done for the Women's Projects . Proud of you all. Can't wait to hear about it when you get home! xoxo
---
Susan Huntington - 5/25/2018
For: Megan & Ben
Love the blog so I can be an armchair traveler & enjoy your experiences along with you. Looks like you are busy & having a wonderful time as well. Love you!
---
Mom Mc - 5/24/2018
For: Rick
Love reading your posts. My best to the whole group. Wish I was there with you.
---
Bill Thomas - 5/24/2018
For: Everyone
A group pic would be lovely Sounds like there is a lot of work to be done there.. best wishes. Mom
---
Laurel Saramak - 5/24/2018
For: Brian, Ben, Megan, Meghan
Sounds like a full day on this the adventure of a lifetime! Get some needed rest as I'm sue you will be back at it Friday! Very exciting to read the posts and to communicate. Love you all! Mom...Luppers
---
Mom...Luppers - 5/24/2018
No more comments are allowed at this time.