Viewing Post for: Bhutan 2017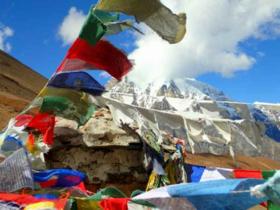 Date: Monday, October 23. 4 pm
Location: Shodu, Bhutan Another HUGE day. Over 16,200 pass.
Hiked from 8 am to 4 pm. Jenny not feeling too good so she rode a horse. So beautiful all day. Clouds of soft, puffy shapes floating above the sheer rock faces and distant brilliant white glaciated peaks rising into the clouds. Herds of wild sheep on the hills, some close. The air is thin as we climbed into the pass. Steps were slow as we fit into a groove to keep moving without stopping. Above us the line of prayer flags flapping in the wind beckoned us on. We descended pass an emerald green lake into a valley of waterfalls. We are back into the rhododendrons and treeline not too far below. The stream is rushing past our dining tent. The picture is of the pass with a stupa in the foreground and the giant peaks behind. Scenes of camp Paul walking around in daylight with his headlamp on. Gerry wearing ice packs while the rest of us are in down jackets. Horses stampeding through the lunch kitchen, people too tired to move.
---
Messages for this post
For: RoRo
Thank you for answering some of our questions yesterday! We have many more, but we'll wait until you get home. Glad to hear you are all managing the altitude. The views must be incredible! Enjoy your descent tomorrow. Things here are good- Fordy is well-loved, the weekend was great. Swimming, playing on the point, and paddling on the SUP board. A wants to be sure you know he was at the dentist today. Very exciting! More tomorrow. Love you!!!
---
The Herberger Family - 10/23/2017
For: Ro
Go Go, Ro Ro!!
---
Mack - 10/23/2017
For: Garth and Sarah
Love hearing about what you are doing each day. I can only imagine the visual treasures each day. Love- Brenda and Ron
---
Brenda and Ron - 10/23/2017
For: Jerry
Keep on trekking. Love hearing about your travel adventures. We love you!!
---
Torrey & Trev - 10/23/2017
No more comments are allowed at this time.