Viewing Post for: Bhutan 2017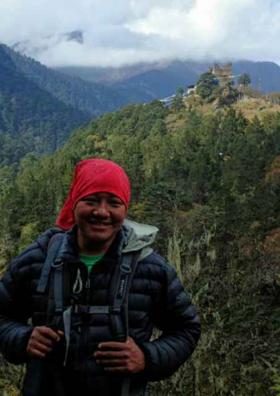 Date: Wednesday, October 25. 6 pm
Location: Somewhere on the side of the Thimpu River Valley in the middle of the woods.
Big 15 mile day. Trekker comments "Looks like shangri -la" "The morning climb was glorious" We continued down the valley with glorious cliffs loaded with bright yellow trees. Waterfalls, more lovely, rushing stream. We climbed out to an old glorious dzong. There is a new monastery there with 30, mostly young monks. We chatted with them about their daily life. Above us in the temple they chanted. We checked out the kitchen where they prepare meals over fires. It felt like we were stepping back in time. When the young monks came out of the temple they were as curious about us as we were about them. We continued down stream until we climbed out. They are putting in a new road, cutting deep into the hillside and the forest. When we got to the campsite, noone was there. The new road made it too steep for the horses. No phone service so we wandered down the mud track of a road hoping to discover our friends somewhere in the woods. Just before dark we spied them. Yesterday Jenny went out by horse all the way to town. She had been feeling sick so seemed best to send her out. She is doing fine and exploring Thimpu.
---
Messages for this post
For: Paul
Hi, Dad! Looks awesome!! Hope you're handling the altitude well. Busy week for us... Madeleine decided to "see how sharp her scissors were" and cut a 1 inch clump of her bangs off at the scalp ... right in the middle. She looks really odd. Her brothers were calling her "stinky, strange bangs" yesterday. Looking forward to the Christmas pics... See ya soon! Love you!
---
Eric & family - 10/26/2017
For: Rick and the band of adventurers
Hello to all- I don't remember a rest day?! I'm reliving some of our 2014 adventure as I read your posts. One of my strongest memories is learning to trust a horse on narrow cliff edges! Despite the somewhat significant health issues I had, Amy and I are scheduled to return to Bhutan for 5 weeks starting the end of February when I will be volunteering to train Pediatric residents and Amy will be helping to teach English in the local schools. Best wishes to all. Jeff
---
Jeff Levinn - 10/25/2017
For: Daddy
Wow look I figured out how to write on your posting thing. Did you know you post something every day? I know that now. Looks like a great trip. Today I drove over some curbs and lawns in my truck just because I could. Also Noone is incorrect. It can be no one or no-one depending on your stylistic choice. Enjoy bhutan. Son
---
Sonny boy - 10/25/2017
For: Sarah and Garth
Sounds so interesting and beautiful!
---
A Tan and U Gord - 10/25/2017
For: Garth and Sarah
I believe that you are nearing the end of your journey in Bhutan. Safe travels home! We'll look forward to hearing about your trip in December. Love- Brenda and Ron
---
Brenda and Ron - 10/25/2017
For: RoRo
We love you! It is going to be very epic setting up your Halloween decorations. (A) For us, not so much; I think we are going over to Maya's for a Halloween party. (E) Oh, and also, I won a Rock-Paper-Scissors contest I thought I would never win. I beat the entire 2nd grade! (A) Last Friday night's etiquette class was really fun! It was a dinner. I'll tell you more about it when you get home. (E) Nakupenda! (A) XOXO (E)
---
E and A - 10/25/2017
For: Rick
I sent a note to Paul earlier and forgot to say hello. Namaste, Rick. Reading the posts I really feel for Jenny. I was in the same position on our trip to Everest Base Camp in 2010. Speaking of trips, I desperately need a trip. Let's talk when you return. Stay safe. Tom
---
Tom - 10/25/2017
For: ro hodges
I hope you are enjoying the trip, look forward to seeing your pictures, keep safe, love u!
---
megan - 10/25/2017
For: Paul
I am soo jealous!! What a trek. Wish I could be there too. But I thought you needed a hockey update. Sam's team is now 6-10-1, playing better after a slow start. He was in a tournament championship game over the weekend but lost a nail-biter 3-2 to an Ottawa team coach by former NHLer Daniel Alfredsson. He says Hi (Sam, that is). Eliza has a stomach bug. Mary celebrated her 13th birthday yesterday, and LOVED the photo book you and Mimi made for her. Tessa and Keelyn say Hi too! Au Revoir, Tom
---
Tom - 10/25/2017
No more comments are allowed at this time.