Viewing Post for: Bhutan 2017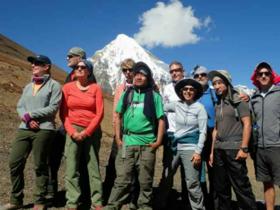 Date: Sunday, October 21
Location: Lingshi. A small Bhutanese town at 14,000 feet.
3 day walk from road. Including crossing a 16,000 foot pass. 13,500 feet. Of course the big news today is Nayla la. A 16,000 foot pass. Yesterday we had some mist and clouds so we were anxious for good weather. And we got it! It was a slow climb of 4 hours to the pass. Some were feeling the altitude a bit, but kept moving. We were treated to deep blue skies, light wind and warm sun. Towards Tibet direction were 4 huge, brilliant white peaks with cascading glaciers. They reached heights of over 24,000 feet! At this point we placed our prayer flags we had written our prayers for our loved ones at home. It was downhill in the afternoon, more great views. We are camped next a lovely creek, the only ones in the valley. Tomorrow, another big day, over 16,500 foot pass! Stay tuned. Below are for our readers. Responses to their questions and other personal messages. Answers to the curious duo of Ella and Adelai. Bhutanese use a language called Dzonka, close Tibetan. Their hair is black and their skin is of a brown complexion. Not many wild animals since so far people live in the valleys. They have lots of yaks. We did see a hillside covered with wild sheep though, very cool. Monks. Eating, depends. Sometimes if on long retreat very little, but they meditate daily and eat daily normally. To Lori from Paul. HAPPY birthday!

Comments from the hikers "Bob we miss you" "Tough day" "Awesome views" "Lorraine, I am doing fine, can't to see you India. Been doing doing my yoga on the hillside"
---
Messages for this post
For: Jenny
We had a great weekend in Ithaca within Dad and Ginger! (We're putting the car to good use, as you'll see on the EZPass bill.) The fall leaves were beautiful! And we helped get the boat out of the water, so you don't have to when you're home. Can't wait to hear all about the trip in person! We're following the blog daily. Give us a call when you're back.
---
Sarah & Alex - 10/22/2017
No more comments are allowed at this time.