Viewing Post for: Bhutan 2017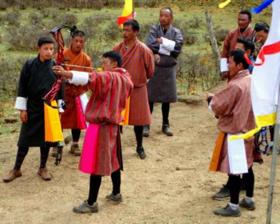 Date: Saturday, October 21st.
Location: Same as yesterday. Jomolahari base camp.
Our weather has clouded up. Hoping we won't get too much snow or rain. Base camp day. People could choose what to do. Many chose to hike another 1500 feet up hill to help with acclimatization to a stunning alpine lake. Here yak herders were camped, ending their season of grazing. Others chose to walk up the valley to the base of a glacier. Both places allowed us to have great views of both of the 22,000 plus mts we are camped below. It was kind of a rest day if you call 5 hours of walking a rest. But, we did get to camp early afternoon. Everyone is doing well still. Our guides names are Lal and Tashi. Great guys. Jolly, joking and safe. They each speak at least 4 languages.

Our Sunday post may be a bit late as there is going to be a PPS office delay on Sunday.
---
Messages for this post
For: Jenny
Wow, sounds amazing! We thought we were tired after running 10 miles today but we definitely can't compete with you guys! Sounds like an amazing trip so far; looking forward to more updates!
---
Jacob Steph - 10/22/2017
For: Garth and Sarah
Garth, we saw your parents yesterday at Tan and Gord's and heard that you two are on your next adventure. It sounds out of this world- literally! What great views (and photography) there must be there. Will follow each day, now, so be safe and have fun! We met Ollie last night too. Cute pup! - Love, Brenda and Ron
---
Aunt Brenda and Ron - 10/21/2017
For: RoRo
WOW! We are in awe of the adventure you are having. So many questions, so much excitement for you and the group. A is very intrigued by the archery- now inspired to break out the new slingshot (NO airhorn!). E likes the clothing- colorful ghos and comfy school uniforms! A classic fall morning here- fire, Legos, waffles, chore planning. Gorgeous day. D and I stayed up to watch the meteor shower last night, wondered if you are seeing it there. Love you! Just put one foot in front of the other!
---
The Cottage Clan - 10/21/2017
No more comments are allowed at this time.