Viewing Post for: Bhutan 2017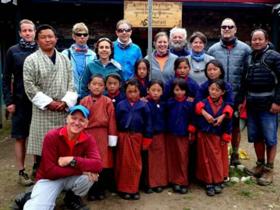 Date: Friday, October 20, 3:30 pm
Location: Jomolahari Base Camp, Base Camp. 13,500 feet
Great hike. All are strong. A few minor headaches. Picture. We passed a last town, 2 day walk in. There was a school. 9 kids total. 2 teachers who volunteered for this remote posting. They have to leave their family behind. The kids stay in this school through 4th grade. Also in town was an archery tournament. So cool. The archers compete in teams. They are wearing their ghos, using compound bows. The field is 130 yards. You can barely see the tiny thing. We are camped below an ancient dzong, fort. Rising 10,000 feet above us, up into the clouds, is Jomolahari. It is covered in cascading glaciers. Today, we entered yak land. So many yaks! Big yak, black yaks, white and brown yaks, yaks with ribbons... Great popcorn by the way for our tea time!
---
Messages for this post
For: Sarah and Garth
We are enjoying reading about your adventures and can imagine how fun it must be to be living them! We saw Ollie this weekend at our party. He was a great guest! Lots of love to you both!
---
A Tan and U Gord - 10/22/2017
For: Mom
Your adventure keeps getting better! It's good to see that everyone is doing well. All is fine here. We are on our way to the River as I write this, having left after E's etiquette class. Too excited to wait until tomorrow! Looks like the weather will be amazing. I'm particularly thankful of this as the one who will be in the water to pull the waterline. Planning a Nature Center hike at some point. We'll think of you as we scramble up the Narrows trail! Not likely to see any yaks though. XOXO, J
---
Jaima - 10/20/2017
For: Jerry Trust
Pollo pollo (I hope I said this right) pressing onward. I know you can do this. I am sending you positive energy and strength. Just think about all the FUN we are going to have together in India.
---
Loraine Bradbury - 10/20/2017
For: Jerry
While climbing the passes may be difficult, remember, you get to surf down the other side!
---
Bob - 10/20/2017
No more comments are allowed at this time.