Viewing Post for: Bhutan 2017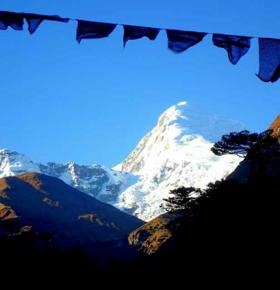 Date: Thursday, October 19
Location: Thangthangka, 11,500 feet
13 miles of walking We are finally on our own and trekking. Well, not really on our own, we have 8 staff, cooks, guides, horsemen and 20 horses. We are lucky. Only one or two other small groups on the trail. Today took us along a rushing, clear green stream. The lower reaches had it surrounded by dense, heavily vegetated, trees. Lush ferns, mosses and pines mixing in. Lovely. The group is doing well. We are hiking a good pace, lots of chatting except on the steeper stretches. Lunch is a warm lunch served trail-side. We passed the turn off for Tibet. Until recently people took horses up the steep trail to return with cheap Chinese goods. Now a few soldiers are stationed at the border and told to shoot on sight. Very sad the violence in our world. Tonight when the temperature plummets, the star s will explode again in brilliance in the clear mountain air. As they have done for eons. We are immersing deeper into this timelessness.
---
Messages for this post
For: Paul
Hi Dad! Sounds beautiful!! We're happy to hear everybody is doing well. Lori turned 40 yesterday... We went out to dinner with everyone and then swung over to Powers Farm Market for a haunted hayride. $9/person. Total ripoff ... but the kids had fun. It's 6 in the morning here, Andrew crawled in our bed 30 minutes ago, and Lori's alarm clock has gone off and been snoozed like 5 times, so needless to say, sleep is evading me. Wish I was out in the wilderness with you guys. XO
---
Eric and family - 10/20/2017
For: Sarah and Garth
Glad that everyone is doing well and enjoying your amazing journey. We can only imagine the breathtaking views and awesome experiences you are having. It is great to get the daily updates and photos. Love, Mom and Dad H.
---
Rob and Linda - 10/19/2017
No more comments are allowed at this time.